Euphoria encourages replace amount youth
Recently, the Drug Abuse Resistance Education program (D.A.R.E) criticized HBO's hit show "Euphoria" for its glorification of drug use, sex, and violence.
Euphoria follows Rue, played by Zendaya, a high school student struggling with addiction after the death of her father, on her journey of self-discovery. It aims to encompass the modern American teenager's transition to adulthood while dramatizing the most extreme aspects, such as addiction, violence, and sex.
"It is unfortunate that HBO, social media, television program reviewers, and paid advertising have chosen to refer to the show as 'groundbreaking,' rather than recognizing the potential negative consequences on school age children who today face unparalleled risks and mental health challenges," D.A.R.E said in a statement to TMZ on January 26, 2022.
The show's explicit content goes against D.A.R.E's zero-tolerance policy on drugs, and despite the series' mental health awareness disclaimer, phone number for the National Alliance of Mental Health, and trigger warning for "violence, nudity and sexual content that may be disturbing to viewers" before each episode, D.A.R.E argues that the show's glorification of drug use encourages addiction among viewers.
"Rather than further each parent's desire to keep their children safe from the potentially horrific consequences of drug abuse and other high-risk behavior, HBO's television drama, 'Euphoria,' chooses to misguidedly glorify and erroneously depict high school student drug use, addiction, anonymous sex, violence, and other destructive behaviors as common and widespread in today's world," D.A.R.E. said in the statement.
However, Euphoria creator Sam Levinson argues that the show is an accurate, if not dramatized, depiction of Gen Z, individuals born from 1997-2012. He explains that many of the scenes in Euphoria are based on situations he encountered as a teen and can help teens navigate into adulthood.
Lead actress Zendaya has made a point to defend the show against D.A.R.E's remarks, saying that the show is essential in helping viewers see the dangers of drug use and discourages addiction. She also warned viewers of the show's mature themes before the second season's premiere on January 9, 2022.
"I know I've said this before, but I do want to reiterate to everyone that Euphoria is for mature audiences. This season, maybe even more so than the last, is deeply emotional and deals with subject matter that can be triggering and difficult to watch," Zendaya said before the second season's premier.
D.A.R.E's targeting of the hit show Euphoria leads many to wonder, at what point should drug use, and other explicit behavior on television, be regulated to discourage further drug use among teens? While some would argue that Euphoria promotes drug use among teens, many teens believe the show is an accurate, if not highly dramatized, depiction of growing up in the 21st century and helps teens navigate their journey of self-discovery.
Leave a Comment
About the Contributor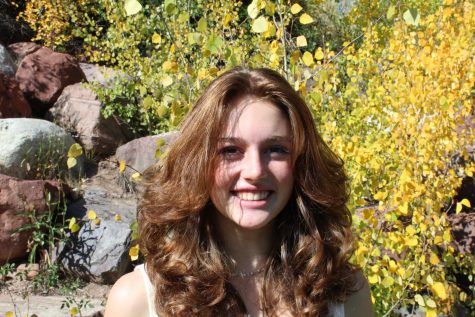 Oceane Jones, Opinion Editor
Océane Jones is an AHS junior, and this is her second year on the Skier Scribbler, working as an opinion editor. Moving from sunny California, Océane...