Saved By the… When is the Bell?
This year, many students at AHS were surprised when they found out that the framework of last year's class schedule has been changed. Instead of having four periods in a day, there are now nine; with classes 45 minutes long, instead of the 90 students and staff were used to. This system, however, is much more complex than it may appear.
Students who are not taking IB or AP Mathematics have math every day, alternating between 90 and 45 minute classes on their respective color days. When these students complete a 45 minute block of math, they transition into either Freshman Seminar or have 45 minutes free. Those students who are taking IB or AP Mathematics have a normal 90 minute class with math on alternating days.
The remaining classes in students' schedules remain as 90 minute classes, but each is considered two periods of class time.
This change in the schedule was instigated because of the necessity to increase both math minutes and the frequency of math classes. The schedule change did not occur because of the outcomes of test scores, but rather the test scores were a symptom of a bigger issue at hand, according to Assistant Principal Mark Grice.
"The increasing the frequency and the increasing the amount of time for math was the impetus behind the changes in the schedule," Grice said.
However, many students around AHS are wondering how this new schedule was initiated, and if there was any student, teacher, or parental say in the matter.
Principal Kim Martin said that the decision to change the schedule was close to unanimous among teachers in the school.
"We had a meeting with teachers where I asked them to think about all the different possible schedule options that we have. We have analyzed many different schedules like, 45 or 50 minute,  an eight or nine period day, a trimester schedule, a 90 minute block schedule that is not alternating A/B [different class days], a semester based schedule… many, many options. Then I asked teachers to meet in their departments and to present one that they thought would best benefit students and benefit teachers and helps us increase time on task for math," Principal Kimberly Martin said.  "Once I got that, it was pretty unanimous. It wasn't completely unanimous; there were some departments that had different ideas about the schedule, in terms of one department. All of the other departments agreed with this schedule, so then I was charged with the task of figuring out how to make it work in Powerschool."
Prior to this change at AHS, students and staff had a 20 minute tutorial between the first and second period. As a result of this new schedule, the time for tutorial has been lost and is currently a pressing issue for a large majority of the school.
Students no longer have the opportunity to meet with teachers or clubs for short meetings, as it is very difficult for these meetings to be scheduled due to split-lunch and other various activities that transpire during the day. This was not a prevalent issue last year, but the loss of tutorial has been a disadvantage for students seeking help from their teachers, especially when lunch periods do not line up.
"I never really noticed tutorial until it was gone. I never realized how helpful it was, until it wasn't there anymore. I used that time to catch up on my day, to avoid running from class to class, as I do now, and to spend precious time talking to teachers. Tutorial was actually really helpful. It served a multitude of purposes: everything from taking a quiz, to grabbing a bite to eat from the cafe. I realize it is gone because of the new schedule, but I do wish we still had it," junior and IB Diploma candidate Harriet Pryor said.
Some of the changes in the schedule do not necessarily benefit each student in the school. Because of the addition of classes in the schedule, there needs to be corresponding passing periods in order to make it possible for students to get to class. This extra time for passing was created by dispersing the time that tutorial once held.
The time which was originally tutorial was one of the few breaks that student with heavy IB schedules had. The juniors, especially, are being impacted by this change because of the rigor this year that high school holds. The majority of seniors and juniors usually only have one or two free periods in a year.
Though the changes may be new to AHS students, Martin has worked in schools with both 90 and 50 minute periods.
"Based on what teachers said here in this building, they felt their instructional practices and their classroom management styles, and the amount of material that they wanted to cover, was best suited by 90 minute class," Martin said.
Grice commented that later on in the year, AHS administration will likely look to see what is working or not working for students and staff in regards to this new schedule.
"I think every schedule should be a work in progress. I don't think that every week we should be like, 'Okay we're going to do something completely different,' but I do think that only troglodytes and dinosaurs say, 'It can't change. We must leave it the same,' I think that is really childish and juvenile to act like we can never change the schedule," Grice said.
Students are welcome to come up with ideas about changing the schedule and seek Principal Martin out to present them to her. She encourages students to come up with creative solutions to their problems, especially those concerning the schedule.
"Schools are learning institutions, and the only thing that's constant is change. So, who's to say that, perhaps, next year tutorial might be back. The point is that when we learn, or see, or come up [with], or create more innovative, practical solutions to problems, we make those changes. So who's not to say that you [AHS students] or other journalism students, and student sat down and said, 'Hey Kim, why don't we try this? Think of this!' and show me something that's awesome and dynamic and creative and innovative that would work, why wouldn't we consider that? I don't pretend that I have all the answers, I just know that, I'm trying, I'm doing the best that I can with the constraints and stipulations that I have," Martin said.
For many students and some staff, the road may look long before the ideal schedule is achieved, but things are ever-changing, and perhaps the schedule is just a bump in the road.
Leave a Comment
About the Contributor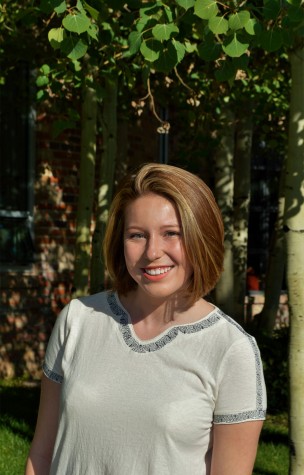 Mackenzie Conner, Photo Editor
Mackenzie was born in Aspen, Colorado, and is the fourth generation of her family to be born in the city. She participates in three sports throughout the...