T.V. on the Radio Inspires with Latest Releases
Hang on for a minute...we're trying to find some more stories you might like.
The Brooklyn-based indie rock band, T.V. on the Radio, which features impressive vocals and raucous, imaginative beats, is enticing fans with a sneak preview of their newest upcoming album.  Seeds, which will be released November 17th through Harvest Records, is already shaping up to be yet another jam-worthy T.V on the Radio album.  "Happy Idiot"and "Careful You", the two singles released early as part of the long-awaited album, are some of the catchiest tunes of the past couple months.
   Seeds will be T.V. on the Radio's fifth EP, and their latest work since they released an uncharacteristically mundane pair of songs, "Mercy" and "Million Miles",  in the summer of 2013.  However, prior to those singles, the band's  2011 EP Nine Types of Light, was one of the most memorable albums of that year.  It matched lead singer Tunde Adebimpe's versatile voice with thoughtful, delicate lyrics and an optimistic yet refreshingly simple instrumental.  This combination helped create a totally listenable EP, and on a personal note, helped solidify my now infinite appreciation for the group.
    Nine Types of Light was T.V. on the Radio at their best.  I am very happy to report that the first couple of releases from Seeds live up to the band's weighty reputation.  I'm hoping  the group will be able to recapture their signature sound for the remaining of portion of their new EP.
"Happy Idiot", th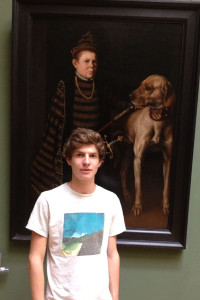 e first single that was released on September 2nd, sets the tone for the upcoming album.  The song begins with a steady, fast-paced beat, which is soon accompanied by a constant, clean and melodic guitar riff from longtime guitarist and producer Kyp Malone.  It quickly progresses with explosive, anthemic vocals from lead singer Adebimpe.  The chorus is ruthlessly catchy and the lyrics are abstract and thought provoking, depicting ideas of complacency versus anticulture:  "I'm a happy idiot / I'm gonna' bang my head against the wall, " belts Adebimpe. "Happy Idiot"is better described as an experience rather than a song.  The swooping musical progression is just as easily felt as heard.  This effect could be deliberate as core members, Tunde Adebimpe and David Stiek  are visual artists as well as musicians.   Although the tune is short, lasting only just over three minutes, it is unpredictable, and holds the listener's attention from start to finish.
The second and most recent preview from Seeds is called "Careful You", whichwas released October 7th.  This song is slightly longer, lasting just over five minutes, which is pretty long for any song.  However, this single doesn't fail to captivate. Utilizing a slower and softer beat, and paradoxically matching it with undertones of raw and uncontrolled gain,  the sound is distinct.  "Careful You" achieves a mysticism in its progression, and Adebimpe's inspired lyrics and endlessly adaptable voice only adds to the magic.
Seeds will be released on November 17th, however I wholeheartedly urge you to give these previewed singles a play on Spotify or Youtube. You won't regret it.