AHS Student, One of 'Stein's Boys', Remembered
It was Karl Day on Oct. 3 in Snowmass Village. Over 200 friends and family members of Karl Severson gathered at Elk Camp restaurant to say their goodbyes to the 16-year-old AHS student who passed away in June from an automobile accident in Washington state. Tissue boxes filled the tables and overwhelming sadness filled the air. Leaves fell and the sun shone with a slight breeze that almost seemed like Karl was saying hello.
Severson, an AHS student, athlete, and the youngest instructor at ski school, "one of Stein's Boys" and water-skier lost his life on June 12. An adventurous spirit, an old soul, and an outgoing jokester who played a trick on math teacher Bernadette Pelinski is remembered by his friends and family.
"The night before Karl went to Washington we went car camping up by Smuggler. We stayed up till 4. a.m. just looking at the stars and talking about life. I don't know a better way to spend the last time with your best friend. His service was great because we got to be there and support Karl's parents with so much love," said Junior Ruairi O'Donoghue.
Karl's father, Mark Severson, offered funny, moving, and heart felt stories about his only child. He shared the origins of his son's name. His wife, Maddie Severson, wanted a modern name out of a baby book. Mark wanted his relative's name to be used. The only way she would agree to that was if the baby was born on Jan. 28 which is officially Karl Day in Norway. That was the day this "old soul" was welcomed into the world.
He also shared a story about Karl as a 3 year old when he was helping his dad drive their speedboat. He was so small that he had to stand on the seat to drive. Mark wanted his son to be able to save him if his dad were to fall overboard.
The director of the Snowmass Ski School, John Kneiper, spoke of how Karl was a valuable member of the ski school. He considered himself one of "Stein's Boys," a reference to the first ski school director, Stein Eriksen.
Severson was respected in the Aspen School District, community, and valley.
His coach at Aspen Valley Ski and Snowboard Club, Pat Callahan, talked about Karl's intelligence and how on long trips, Karl was able to immediately pick up the brainteaser that was stumping the team. Callahan stressed that Severson was always his own man and true to himself.
"He would risk anything to make other people happy. And he never let anyone down. I don't think there was ever a time I was upset at him. He was always encouraging and really selfless,'' sophomore Isabella Borenstein said.
A special foundation for Karl Severson has been started to help support young athletes and students to achieve what they dream can be possible. Contact John Kneiper at [email protected] for more information or to make a donation.
About the Writer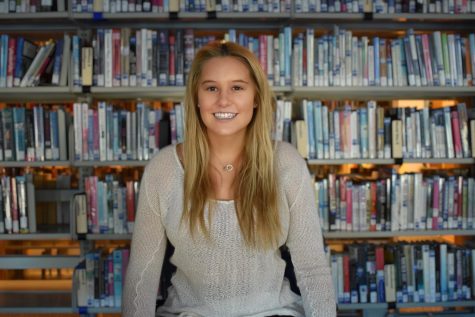 Madison Osberger-Low, Sports Editor
Madison Osberger-Low is a senior at AHS and the Sports Editor for the Skier Scribbler. This is her fourth year writing for the paper and she hopes to...