Thin Mints here to stay, joined by Savannah Smiles
Back for their 106th edition are 12 varieties of Girl Scout Cookies. They are now available for sale for $4 a box from your local Girl Scout or online at www.girlscouts.org
First offered in 1910, today's cookies include the ever popular Thin Mints and Samoas as well as new favorites Savannah Smiles and Lemonades. Girl Scout Cookies are unique because they are only offered once a year, and are used as a fundraiser to help pay for projects and trips. These qualities make people more willing to pay $4 for a box of cookies rather than half of that price for cookies at City Market.
Thin Mints and Samoas have remained the most popular cookies because they blend chocolate and a little mint flavor, or coconut and caramel, on a small wafer. They taste the same every year as the recipes have endured for more than a century. Some kinds, including Kookaburras and Upside Downs, have been pulled from the Girl Scout Cookie stock because they didn't sell well or tasted terrible.
People who are more experimental, or who need a jolt in the morning, may want to veer away from the old favorites and try the new edition Lemonades "a tangy lemon icing topped shortbread," according to the official Girl Scout Cookies description. Maybe the adventurous , back country skier or distance athlete would prefer the more healthy Rah Rah Raisins, packed with Greek yogurt flavored chunks and whole grain oats. This oatmeal raisin cookie might not have the success of a Thin Mint, and like other failed varieties, including the Ole Oles, could receive a quick "adios" from the Girl Scouts.
For those dreaming of a vacation in Hawaii, the coconut flavored chocolate Samoas offer a cheap substitute for a fantasy getaway. No matter what the variety, every February the sale of Girl Scout Cookies provides a way to mark the passage of time and satisfy many sweet tooths.
About the Writer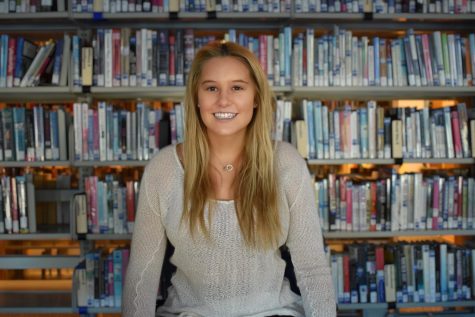 Madison Osberger-Low, Sports Editor
Madison Osberger-Low is a senior at AHS and the Sports Editor for the Skier Scribbler. This is her fourth year writing for the paper and she hopes to...