10 Fun Activities For a Denver Getaway
When the calendar finally hits June 7, most AHS students and their families will be looking forward to getting out of the valley, even if only for a few days. But not everyone can afford an expensive beach vacation, so for those on a budget there are plenty of entertaining experiences to be had this summer in Denver. Here are 10 recommendations for what to see and do in the Mile High City.
         Coors Field- Catch the Colorado Rockies on the diamond for an afternoon game or under the lights during the evening. The Rockies played well against tough teams like the Mets and the Cardinals during May, with strong performances by players like pitcher Chad Bettis and hitter Charlie Blackmon, who is also a great outfielder. If the game is moving slowly, take a walk around Coors Field for people-watching and shopping opportunities. During the 7th inning stretch, you may run into Dinger, the Rockies' purple mascot, who is always ready to pose for a picture.
Plan ahead and pick up some cheap tickets in the Rockpile, which range in price from $4-7, depending on the game. Check out their website, coloradorockies.com, for other ticket specials.
     Elitch Gardens– For over 100 years, Elitch Gardens has provided thrilling rides and entertainment options for Colorado families. Elitch's opened at its first Denver location in 1890 where it stayed until 1995, when the new park near downtown was built. More room has meant more rides, including an entire water park! The park has stayed close to its original roots by running thrilling rollercoasters, like Mr. Twister, and scary spinning rides like the Half Pipe and the Brain Drain. Elitch's also hosts concerts that are included in the ticket price. If you plan on visiting more than once this year, a great deal is the season pass, which costs $69.99 and includes free parking, free "dive-in movies" and other deals.
            Denver Zoo– More than just lions and tigers and bears, the Denver Zoo offers many species of furry, fuzzy, slimy and poisonous creatures. Ever seen a frilled lizard or a mandrill? How about an African wild dog, a red river hog or a green tree python? Those creatures and more are part of the zoo's large collection of mammals, reptiles, fish, birds and invertebrates. Adult tickets for people aged 12 -64 start at $14 per day, depending on the season.
Red Rocks – This natural rock theatre is considered one of the most beautiful places in the world to see and hear a concert. Many famous bands have played here like U2 and the Beatles during the 110 years that Red Rocks has been open for business outside of Denver in the town called Morrison. Shows are planned between now and October 15 and acts like Zeds Dead, Twenty One Pilots and OAR are sure to sell out. There are also Yoga on the Rocks events on the schedule. For information on shows and how to buy tickets, check out redrocksonline.com
Forney Museum of Transportation- There are more than 600 different artifacts that have to do with historical transportation at this unique museum outside downtown. Trains, locomotives, aircraft, bikes and cable cars may all be seen at the Forney where it's possible to understand what daily transportation was like in the good old days. Tickets are only $11 for adults.
Molly Brown House Museum- If you have any interest at all in the movie "Titanic," the Molly Brown House Museum will be somewhere to check out in the Mile High City because Molly was a survivor of the boat wreck. That's how she earned the nickname "The Unsinkable Molly Brown." The museum is one of the most visited historic sites in Colorado and a place where you can learn all about the life of this amazing woman, who also lived in Leadville. Special events at the museum include a Molly Brown Tea that's held on Saturdays.
Colorado State Capitol- From just about anywhere in Denver you can see the beautiful gold dome on top of the off-white state capitol located near Colfax and Broadway streets. The building is listed on the National Register of Historic Places and is where politicians in the state Senate and House meet during the winter and spring months. Free guided tours are offered through the capitol on Monday through Friday for most of the year.
Colorado Convention Center- From comic book shows to Broadway theatre and other arts events, the convention center in downtown Denver is a busy place in both the day and night. At the Bellco Theatre that's part of the center, R. Kelly and Meghan Trainor are appearing in concerts this summer. This large complex is easy to find because of the giant blue bear that seems to be looking into the back window off Speer Boulevard.
Cherry Creek Shopping Center- Victoria's Secret, Nordstrom's, Forever 21 and H&M are some of the stores found in this popular mall, where it's easy to spend half a day or longer. Visit the Cherry Creek mall right at 10 a.m. when it opens, or in the early evening, to avoid the crowds. Food choices are pretty limited here to fast food or expensive restaurants although there is a Starbucks in the middle of the mall and a Wetzel's Pretzel's where you can buy hot pretzels fresh out of the oven. The mall is located about 4 miles from downtown at 3000 East 1st Street.
Pepsi Center- If you are in the mood for a hockey or basketball game, the Pepsi Center is where you will want to be during the fall, winter and spring, when the Colorado Avalanche and the Denver Nuggets play at the Pepsi Center. It opened in 1999 and is also a place to see concerts and performances like Cirque du Soleil. During July and August will be concerts by Selena Gomez, Adele and Coldplay. Check out pepsi.centerdenver.com for more information.
About the Writer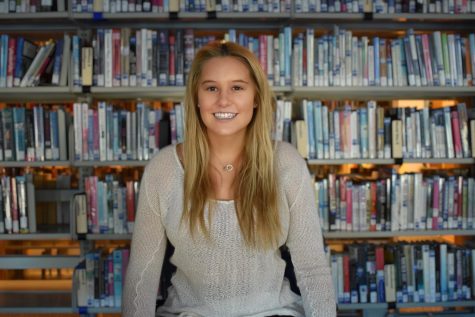 Madison Osberger-Low, Sports Editor
Madison Osberger-Low is a senior at AHS and the Sports Editor for the Skier Scribbler. This is her fourth year writing for the paper and she hopes to...