Olympians and World Champions Skate Through Aspen
On Dec. 17, multiple Olympic skaters and members of the Aspen Revolution Skating Club will be performing in the Fourth Annual Stars On Ice Skating Show, produced by Revolution Skating Club coach, Peggy Behr.  Each year the show includes the 30 member skaters of the Aspen Revolution Skating Club and features Olympic and World Champion figure skaters and ice dancers.  This year Aspen's very own Olympian, Jeremy Abbott will be performing.  Joining him will be Olympians Rosalyn Sumners and Yuka Suto, ice dancing partners Ashley Cain and Timothy Leduc, Coach Kelly Smith, and reigning World Silver Medalist Ashley Wagner.
"All of the skaters are friends of mine or Jeremy's. The skating community is small and like a fraternity. Rosalynn and I are childhood friends that grew up skating and training in the same rink," Peggy Behr said.  "Then she and I toured with Disney on Ice together and were in each others weddings. Ashley Cain's mother and father were also on the same Disney on Ice tour. Ashley's father was a pair skater with his sister representing Australia – Ashley Cain was coached by her mom and dad – like Sari.  Yuka Sato toured with Rosalynn on the Stars on Ice tour for 12 years. Kelly Smith and Timothy Leduc performed on a cruise ship together. Now Kelly Smith coaches Sari and many of the Revolutions skaters. Yuka then coached Jeremy and now they perform together often."
Behr works hard every year to make the show a success and dreamed of making the show succeed in Aspen for a long time before it was even started.  
"The inspiration for the show was a long time in the making," Behr said.  "When I first moved from Seattle to Aspen in 1993 I wanted to produce a show with John Denver singing live. Before I could make it a reality he tragically passed away. Then I had children and time passed. As Jeremy Abbott continued to pursue his career, he and I were always connected and talked about producing an ice show together. Finally in 2013 we made it happen."
Sari Behr, a senior in Aspen High School and Peggy Behr's daughter, will also be performing her own piece in the show.  She is always excited to be a part of the show and to see the talent that is brought in.  
"This kind of skating is different from anything seen in competitions or at the Olympics – it is more for entertainment," Sari Behr said.  "You will see moves such as backflips which are actually banned from competition.  I love getting to skate among some of the world's best and some of my personal favorite skaters.  It is always exciting to see Jeremy and watch him skate in person – it is very inspiring.  I love that the show brings in the Aspen community and shares holiday spirit."  
Abbott's father, Danny Abbott, passed away two years ago from Parkinson's disease.  Since Abbott helps recruit so many of the performers, he is allowed to donate the money to any foundation he would like.  This year Abbott has chosen to dedicate a portion of  the show's profits to the Michael J. Fox Parkinson's Foundation.  
Be sure to pick up tickets at the Wheeler Opera House for the Aspen Stars On Ice Show.  The show is hoping to sell out this year and give the town of Aspen a complete skating spectacle, that could be found in places like the Pepsi Center, but instead is brought to the small town of Aspen with close up seats.
Leave a Comment
About the Contributor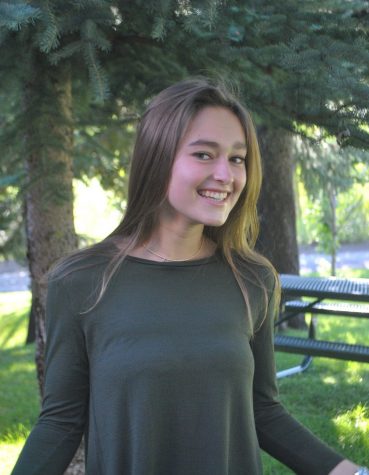 Carson Friedland, Design Editor
Carson Friedland is a staff writer for the Skier Scribbler. She is graduating in the class of 2017.  This is her third year in the journalism class,...