Size Zero
Is there too much pressure on women to have perfect bodies and to fit into small clothing?
The experts say yes, and have frightening statistics to back that up according to Heart of the Leadership website, a non profit helping young women develop their natural leadership abilities.  It's research shows that 80 percent of 10-year old girls have been on a diet. Ninety percent of high school upperclassmen diet on a regular basis.
According to the website's data, "Young girls are more afraid of becoming fat than they are of nuclear war, cancer, or losing their parents."
In the 1950's, movie star Marilyn Monroe was an icon and considered one of the sexiest women alive even though by today's standards she would be considered plus-size. In that era, there was a different standard of beauty and today, models who set the image standard for youth are skinny by comparison.
As stated in a body image, opposing viewpoints website, it explains that in previous centuries women were expressed as the ideal body type.
"Prior to the twentieth century, larger, voluptuous women were considered the ideal body type. This female form was often depicted in the artwork of seventeenth-century Dutch painter Peter Paul Rubens."
Monroe's shapely figure was more of  society's norm back then and a thigh gap was probably unheard of as a measure of beauty. That's not the case in the twenty- first century, when teens are taught that having the skinniest waist and the smallest jean size are the perfect physical standard.
According to a New York Times article,  many pre-teens are bombarded with advertising campaigns and signs promoting a skinny figure that lead them down a wrong path at a young age. A campaign that reaches out to this age group hopes to counter those influences.
"Mainly through bus and subway ads, the campaign aims to reach girls from about 7 to 12 years old, who are at risk of negative body images that can lead to eating disorders, drinking, acting out sexually, suicide and bullying," wrote New York Times staff member Katherine Schulten.
It's not uncommon for teen girls in the world to ask themselves at least twice a day, "Am I too fat to wear these clothes?" or "Will guys like me even though I don't have a thigh gap?" Questions like these lead to self-conscious girls who are to worried about their body image. That needs to change and the bus ad campaign is one small, positive change in the right direction.
About the Contributor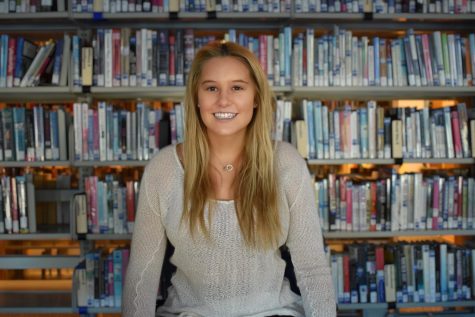 Madison Osberger-Low, Sports Editor
Madison Osberger-Low is a senior at AHS and the Sports Editor for the Skier Scribbler. This is her fourth year writing for the paper and she hopes to...