Street Art: Art or a Crime?
The punishment in Colorado for $400 worth of damage from graffiti is up to a year in prison or a $10,000 fine. There has always been a debate on what is art and what is not. A common topic for discussion is street art. While many people see street art as vandalism, others see it as a form of creative expression.
Recently, Kai Guetta, a street artist from Los Angeles, put up seven concrete paintings on some of Aspen's most well known and historic buildings without permission. These buildings include the Elks Lodge, Hotel Jerome, and Prada. The process of removal for these is tedious and damaging to the building on which it was placed.
The removal for paint involves using soap and a soft brush to gently remove it. However when these concrete paintings were taken off the historic buildings it was discovered that they broke off pieces of the brick walls, which is unfixable. This caused a huge problem for the building's owners and the historic department for the city of Aspen.
"I think street art is art and can be very interesting, especially when it is welcomed," Amy Simon, the historic preservation officer for the city of Aspen, said. "It has a lot of value. When it is done without permission, I think it is wrong, particularly when it is on a building that could be hundreds of years old, that has stood the test of time, and has been loved by the community in the city where it stands."
In Aspen there are some buildings which have welcomed street art. The Crystal Palace has a large mural of a woman's face painted on its walls facing Aspen Mountain. Because the Crystal Palace is a historic building, the mural was painted on wood and the put up on the building. By doing this it protects the building from getting damaged. Aspen generally is an open minded community when it comes to art, but many people believe the concrete paintings may have been a step too far.
"Most street art is put out there to express strong feelings and/or a message," Hunter Love, an aspiring street artist and AHS freshman, said, "It's something someone wants to tell the common people."
Guetta's intentions for the concrete paintings were to spread a positive message through the town of Aspen. He put them on important buildings in town because he wanted them to be seen and noticed, and they definitely were.
There will always be a debate on what is art and what is not. To express yourself artistically while breaking rules may have much more meaning than expressing yourself with limits. Picasso didn't follow the rules of painting portraits. That being said it is also crucial to respect history in all forms. Architecture is a great way to see the past. If buildings that are hundreds of years old are constantly being damaged with new art then a part of our history could be lost. The argument of what is art and what isn't art will never end but maybe one day people on both sides of the argument will see each other's point of view.
About the Contributor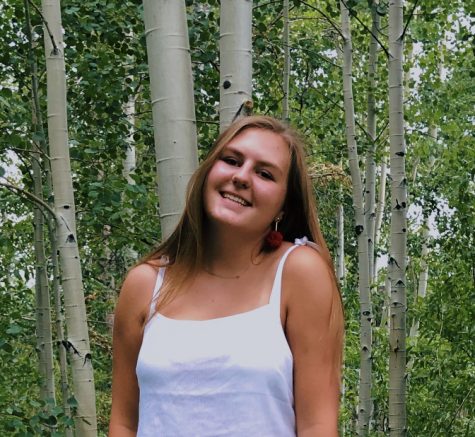 Tessa Guthrie, Editor-in-chief
Tessa Guthrie is a senior at AHS. She is currently one of the Editors-in-Chief. This is her fourth year writing for the Skier Scribbler. She loves to ski,...