AHS Grad Skates with Disney on Ice
Hang on for a minute...we're trying to find some more stories you might like.
While the majority of the class of 2017 follows the college route, Sari Behr skates the world with Disney on Ice. Behr, 18, is taking a gap year to follow her passion as a professional skater.
Sari Behr has skated since she could walk and was inspired by her mom, Peggy Behr, a former nationally ranked skater who later had a career as a professional skater including as a member of Disney on Ice. Peggy portrayed Dopey, (one of the Seven Dwarfs) in the ensemble. Peggy Behr remains close with many of her former teammates, including 1984 Olympic silver medalist Rosalynn Sumners, which has also exposed Sari to the world's best skaters. Peggy Behr also coached two-time Olympian, 2014 bronze medalist and Aspen native Jeremy Abbott.
"My years with Disney on Ice were essentially a gap year halfway through my college experience. I loved every moment of performing and the travel shaped my life. I would not change it for anything," said Behr. "It gave me the gift of travel, friends for life, vision and exposure to the world."
With Behr's techniques, style and time on ice, she adapted all her skills and gave the gift to her daughter.
"My hope for Sari as she rose to the highest levels of her competitive career was that she would realize her amazing accomplishment. Less than two percent of all skaters reach the senior level of skating.  Sari made it in that 2 percent by training in a small town with so little ice time," said Behr. "She also competed in every level from preliminary through senior level at regionals- that is eight consecutive years and nine states of competition."
Sari's first year on "Disney on Ice" has been exciting, but an adjustment from her life in Aspen.
"I'm still getting used to living on the road and being in a different city every week, but that's part of what makes this experience so unique," Behr said. "I've been to cities I never would have traveled to normally."
With a packed suitcase and a temporary home, Behr says that she gets to explore new countries.
" Disney on Ice has nine shows touring around the world at a time so if I stay next year I would be on a West Coast tour and then our show is expected to go to Asia," Behr said.
"This year we play major cities in and around the East Coast, as well as Canada for a few weeks and then we take on Mexico this summer."
Before Behr joined "Disney on Ice," her time was spent in the classrooms at AHS and the Aspen Recreation Center ice rink. She deferred from University of Michigan and is seeing where her skating takes her.
Sophomore and former teammate Isiri Hughes said she has always admired Behr, and knew she had potential to go far with skating.
"Being younger than her, I always looked up to her skills and looked at her like a mentor and a companion to constantly be at the rink with," she said.
"I think that 'Disney on Ice' is perfect for her because to compete at an elite level is only for the 2 percent of skaters and it's very unrealistic for many while Disney is more about the show and skating for an audience more than anything, this fit Sari's skating perfectly," said Hughes.
Peggy Behr stated that, she wants her kids to be unique, whether with skating, life or education.
"Many of the skaters are taking online classes and now have master's degrees while traveling with the show. There is no doubt that she will continue her education. I tell both my kids "I am all about the crooked line – be interesting and take on the world," said Behr.

About the Writer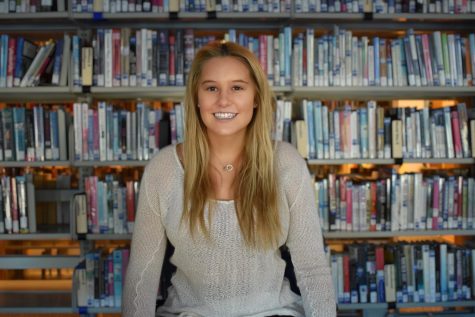 Madison Osberger-Low, Sports Editor
Madison Osberger-Low is a senior at AHS and the Sports Editor for the Skier Scribbler. This is her fourth year writing for the paper and she hopes to...