Talulah Marolt Takes on Lead in the Spring Musical Cinderella
Hang on for a minute...we're trying to find some more stories you might like.
Talulah Marolt is a sophomore at AHS and is successfully excelling in many of her classes, but her main focus has always been theatre. She has been involved in theatre since she was seven years old and has been involved with Theatre Aspen and Theatre Masters. Marolt has been in over 10 shows, mostly musicals, and has always aspired to be a lead in a musical.
"I cried when I found out. My first role in a musical was a chair in Wizard of Oz and now I am playing Cinderella in the school musical, which is super mind blowing to me," Marolt said.
Marolt is also sharing this role with AHS senior Grace Lamont. Each of them will play the role in at least two or three of the performances. With Marolt's outstanding academic success, she is hoping to graduate early to continue her future in theatre.
"I took two math classes last year so I could graduate early. Hopefully, I am on track to do that and I will graduate in 2019. I really want to go to NYU and pursue acting, maybe on Broadway," Marolt said.
Marolt clearly has a passion for acting. Sarah Ward, AHS English teacher and Skier Scribbler Advisor, believes that Marolt is a very strong, artistic individual.
"She's very passionate and she's excited to convey her message to others. She is completely capable of graduating early in terms of academics, motivation, and personal drive. I think those are all qualities she has and I think it's matter of if this is something she really wants to do or not," Ward said.
Ward sees Marolt as a super creative and strong writer. If Marolt sets her heart to graduating by 2019, she can clearly achieve it. Marolt has been taking lots of acting and voice classes to reach her goals. Those classes have helped get her to where she is now.
"I took voice lessons for over eight years with Julie Paxton. Now, I take voice with Kathy Pawlowski. She's amazing and I love her," Marolt said.  
Marolt's passion for musical theatre and her dedication to acting has helped her gain a better voice. Practice makes perfect and she has been working very hard to get a lead role.  
"I thought I was going to get one of the step sisters. I was super upset, not upset, but discouraged about that. So, when I went in and they said, 'Oh we want you to play Cinderella,' I just started crying," Marolt said.
Marolt's role was a surprise to her since it's unusual for underclassmen to be cast as leads. Taylor Hartsfield, Assistant Director for the musical and substitute theatre teacher, did not know Marolt before her audition and was very surprised by her work.
"What I really appreciated about Talulah's audition is that every role we had her read for, she gave completely different and bold character choices. I felt Talulah brought a great balance of innocence and real human behavior to [Cinderella]. Since it is my first year, I didn't know anybody, so I was casting solely after what I saw at other auditions," Hartsfield said.
Marolt also added that the rest of the cast is working well together, along with choreography and the ensemble. The dates of the spring musical Cinderella are March 15-18. Look out for posters soon and get your tickets.

About the Writer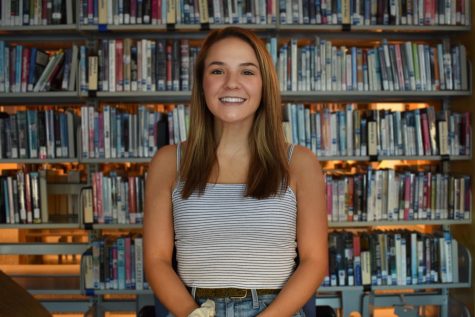 Bella Hoffman, Staff Writer
Bella is a junior at AHS and this is her second year as a staff writer for the Skier Scribbler. Bella is also apart of the AHS Dance Team and spends her...