AHS rolls out new transportation program
Hang on for a minute...we're trying to find some more stories you might like.
SATIRE–Today, first period was interrupted when a group of middle school students found the dead, frozen body of an AHS student on the path leading from the AMS parking lot to the doors of AHS. Authorities have announced that the student suffered from hypothermia before freezing to death while walking to AHS from the AMS parking lot due to arctic weather conditions earlier this morning.
Already this unfortunate episode has inspired school administrators to think collaboratively with local businesses and concerned parents to identify a viable solution to what has been long acknowledged as a treacherously cold morning walk.  Smiddy Limousine Service has teamed up with the AHS transportation department to implement a shuttle system that will transport students from the AMS parking lot to the front doors of AHS. The signature Smiddy Limousines suburbans with tinted windows and flashy rims will be pressed into service immediately to prevent any additional casualties.
"This marks the second incident this year where a student froze to death while walking to school from the AMS parking lot. We couldn't possibly allow our students to start parking at the high school parking lot, so our decision to create this shuttle system was rather obvious," AHS principal Sharon Mulfruit said. "It's an expensive solution, but the AEF is helping us with funding and Smiddy has kindly lowered his exorbitant rates for us."
The sub-freezing temperatures around 8am each weekday morning have baffled renowned local meteorologists and weather experts from around the world.
"I've studied weather patterns in the Arctic Circle for 30 years and I've never seen anything like this before. It's truly stunning," geologist Jacques Fraud said. "I've slept in igloos with polar bears for months and I've never been as cold as I am when I have attempted to walk from the AMS parking lot to AHS."
Students have noted that they are experiencing erratic breathing and heart palpitations while attempting the 50 yard walk to AHS from the AMS parking lot in the morning. These health consequences are causing an epidemic of extreme tardiness. Front desk attendance officer Anne X has been administering oxygen, blankets, and hot toddies to tardy students along with late passes.
"I find it nearly impossible to show up to class on time ever, especially when I have to park at the AMS parking lot," senior Zack Starensier said. "The subzero temps make that walk deceivingly long and, quite frankly, very dangerous. It is pretty concerning to think of all the school I've been missing because of these dangerous weather conditions. The new shuttle service concept will definitely be a help me get to class on time, at least on the days when I decide to go to school."

About the Writer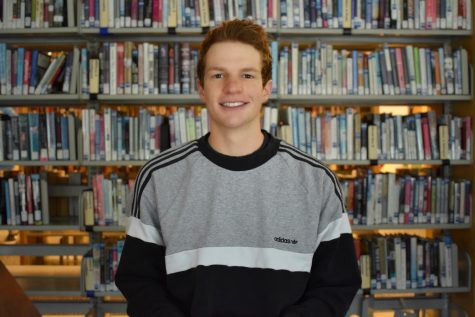 Sam Kahn, Editor-in-Chief
Sam Kahn is a Senior at AHS and a fourth-year staff member of the Skier Scribbler. In his free time, Sam enjoys playing basketball, soccer, baseball, and...