Last Runs for Spring Racers
Hang on for a minute...we're trying to find some more stories you might like.
As AHS spring sports progress through the season and snow continues to melt off the mountains, alpine competitors are racing until the very end. The Surefoot Colorado Ski Cup has already included the speed events of downhill and super-G and will shift to the technical events of giant slalom and slalom beginning April 4. The spring series concludes April 7.
Junior Margo McHugh and Sophomore Meagan Olsen, both AVSC student-athletes, said that competing in the Surefoot Colorado Ski Cup series that runs through Saturday at Aspen Highlands is a positive experience for a number of reasons.
"I think it's important to finish the season strong because to end on a good note leaves momentum for the following season which generally starts as soon as the current season ends," McHugh said. "It's sometimes tough to find the motivation for the final push of the season because you're tired and worn out from racing for the past five months, but I just remind myself it's just skiing and I ski the way I know how and have fun with it. It will be enjoyable and a positive end to the season either way."
Competitors include Olympians and U.S. Ski Team standouts Wiley Maple and Jared Goldberg, as well as Amelia Smart, a University of Denver athlete who was recently named the nation's top collegiate skier.
Olsen said competing in the "spring series"  could help determine whether an athlete will take a year off (a gap or post-graduate year) to ski for the U.S Ski Team or race for a university.
"It is also helpful to show your level of skiing which is a critical part of the college ski recruiting season. Also, for PG's it may determine their season and whether they decide to take another gap year," Olsen said.
Nellie Talbot, a U.S Ski Team member from Vail, said that even with all the traveling and injuries she has endured this season, finishing strong at these last races are key to scoring points.
"These races, spring series, are one last chance for all athletes to get their score before the end of the season. A lot of good skiers come to their home regions which really helps the other kids," Talbot said. "Scoring last minute can help you with getting into schools, on the U.S Ski Team and just for personal goals."

About the Writer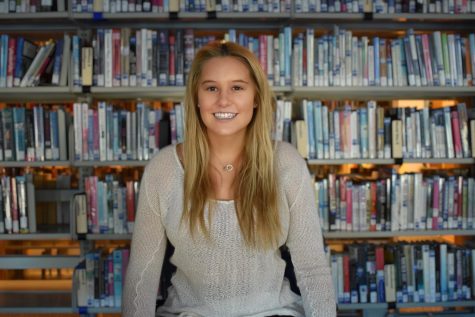 Madison Osberger-Low, Sports Editor
Madison Osberger-Low is a senior at AHS and the Sports Editor for the Skier Scribbler. This is her fourth year writing for the paper and she hopes to...