Exploring the Competitive Academic Atmosphere at AHS
Hang on for a minute...we're trying to find some more stories you might like.
Competition can be found in any corner of the world; AHS is no different. However, the competitions at AHS takes the form of academic pressure. At AHS it seems as if students are always comparing their performance based on their peer's scores. These comparisons encourage some students, who thrive on competition, while negatively affecting others who have trouble handling the constant pressure.
AHS principal, Tharyn Mulberry, believes that academic pressure, created from self-evaluation, may lead students to forget their original purpose: to learn.
"Competitiveness around the students at AHS is very real. I think students are always looking at each other as barometers or metrics that they want to meet or beat, in some sort of academic competition, "Mulberry said. "However, I think that the fuel behind these actions is based on college. Everyone wants to make sure that they have the best college resume possible, and this often causes students to solely focus on their grades instead of learning for learning's sake."
Throughout the past couple of years, according to students at AHS, academic pressure has been rising exponentially, with noticeable effects. Due to this new comparative culture, the administration will be conducting a new program next year designed to alleviate some of these problems.
"Next year we are going to be implementing a new system called the social, emotional, learning curriculum. This curriculum works on a lot of things around mindfulness, having students get in touch with anything that may make them stressed or anxious, specifically grades, which have a large impact on mental health issues. So we are hoping to mitigate that through some awareness and stress management and study strategies," Mulberry said.
However, some students feel as though the academic pressure at AHS is a positive aspect. AHS senior, Ashley Soderberg, credits the competitive academic atmosphere with helping her to achieve more academically.
"Personally, academic pressure has benefitted my studies and has motivated me to be the best I can be. AHS is extremely competitive when it comes to academics and has had a monumental impact on my high school career, due to the added pressure," Soderberg said. "Throughout high school, I've always struggled with pressure to do well. Although I've spent countless nights worrying about grades, this is what pushed me to work hard and do better in school. At times, it can be overwhelming, but overall that competition can be beneficial considering how you deal with pressure."
Although the atmosphere around students can affect their performance, it is the student's job to find a way to work through high school successfully. Those who thrive off of the self-motivation they gain from comparisons may see this to be their primary strength for going the extra mile. Others who may feel lost in the world of ranking will have to find their own way to survive because as we all know, nothing in life worth working for comes easily.

About the Writer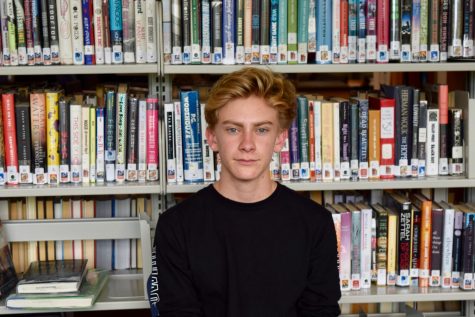 Tatum Diemer, News Design Editor
Tatum is a junior at AHS and this is his second year with the Skier Scribbler, now working as a Layout and Design Editor. In his free time, he enjoys skiing,...