Madison Beer's 'As She Pleases Tour' is a Reflection of Her Hardwork
Screams of excitement filled the venue as spectators stood front row to see Madison Beer. My heart pounded in my chest from the meet and greet where I hugged and sang to Madison. The stadium lit up with all kinds of effects, including a visual effect and a sound effect of white noise and a TV being interrupted that set the mood for the show. The 'As She Pleases' tour was a reflection of Madison coming-of-age and all the hard work she has put into becoming the artists she is today. Beer has proven that she will do 'As She Pleases'. From Madison's vocals to the stage effects, it helped carry this show positively.
The 'As She Pleases Tour' stopped in Denver at the historic Summit Music Hall on Tuesday, May 1st. Many fans agreed that Beer blew them away. Julia McClune from Arvada, Colorado, was surprised to say this concert was better than others she has been to.
"It's shocking myself to say this, but this show was better than Ariana Grande's because it wasn't the Pepsi Center. I felt way more included and connected with Madison in this small venue. She's so talented." McClune said.
The small size of the Summit Music Hall created a more intimate feel for the fans and Madison herself. The lighting perfectly molded with Beer's stunning vocals establishing a peaceful, serene environment for the audience. While I was meeting Madison, she spoke to me about music and pursuing it as I sang to one of her songs 'HeartLess'.
"Keep at it. Follow your heart and continuing doing it because you are your biggest supporter. That was beautiful." Beer said.
In that moment, I swear I lost the will to speak. Hearing those words from an artist you have loved for years can definitely inspire you to pursue your dreams. Beer spoke so genuinely and was such a pleasure to meet. Another audience member, Molly Honan, was astonished by the overall professionalism at Beer's first tour.
"It was very well put together. I can tell that Madison worked so hard to make this the best tour it could be. She really killed it with her vocals and the effects. She's so beautiful and extremely kind." Honan said.
Leave a Comment
About the Contributor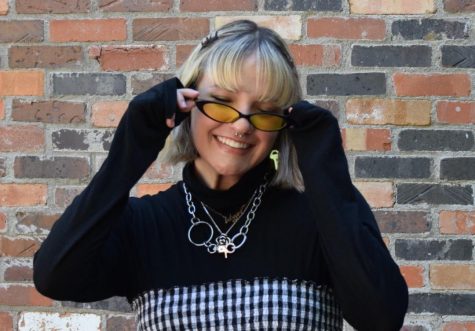 Bella Hoffman, Staff Writer
Bella is a senior at AHS and this is her third year as a staff writer for the Skier Scribbler. Bella is also apart of the AHS Dance Team and spends her...