Cross-training with AHS track and field
Living in an extremely active community such as Aspen, it's not uncommon for kids to balance playing multiple sports at the same time, year round. Many athletes and coaches believe that playing a variety of sports can help improve their skills in all aspects. Specifically, the skills used in track and field translate directly into other sports.
James Aldridge, the track and field coach at AHS, also helps train athletes of their respective sports to build endurance, speed and strength. He believes agility is at the foundation of every athlete's athleticism.
"I have seen track and field translate to more production into other sports just because it produces more raw speed and mental toughness," Aldridge said. "Speed always gives an athlete the upper hand no matter what sport.
AHS Senior Maddy Bergdahl agrees with Aldridge. She is a three-sport athlete, playing volleyball, soccer, and track, and credits many of her accomplishments to her speed.
"I think that the base of all the sports I play comes from being able to run and keeping a high level of fitness throughout the year. Especially in soccer, the track skills translate over with keeping me fit and able to run for a whole soccer game. I think that track and running skills also help me in volleyball because it's a bunch of quick short sprints the whole time. And being able to have a quick and powerful start to my sprints also helps me with my jumping ability," Bergdahl said.
Although these athletes love the time they spend dedicated to their athletics, there are only so many hours in a day, and finding time to balance everything is challenging for anyone. Freshman Zuleika Hanson is currently a member of the track and field team and the JV goalkeeper for soccer.
"I balance everything pretty well. I have good grades, I enjoy playing two sports, and sometimes it's hard to work with practice, but I find time to get them all in, either two practices [back to back] or track in the morning and soccer after school," Hanson said.
While athletics are a huge aspect of many AHS students' lives, a common principle all coaches share is prioritizing academics over sports.  
"The way that I keep up with my school work and my sports is through a commitment to the team that I am on. I need to do my best in school to be there for my team throughout the whole season," Bergdahl said. "I always make time for some homework after practice, and I use my free periods to work as well. It's difficult not to want to go home after practice and nap and procrastinate, but the commitment to my sport helps motivate me."
However, all the time students dedicate to their sport can end up helping athletes in their academic and athletic pursuits, while also saving money. Aldridge explains how his collegiate athletics ended up helping him and his family immensely.
"Growing up it was all about exposure on various platforms. Truly, when it's all said and done, it's about getting noticed by colleges to save parents money. Sports as a means to open doors," Aldridge said. "Economically, the sense of urgency is a bit different when it comes to athletics, and what it could do to be a financial security for a household. I saved my parents close around a quarter million dollars, if not more."
The speed, endurance, and stamina built in track and field convert directly into more success in their other sports. Speed gives any athlete the upper-hand in their respective sport.
"I personally recommend that track and field be a base in any child's upbringing. As a high school student, I would say if you are trying to gain an advantage in your respective sport speed has never hurt anyone. I never heard any coach say, 'I couldn't put Johnny in the game he's just way too fast!'" Aldridge said.
About the Contributor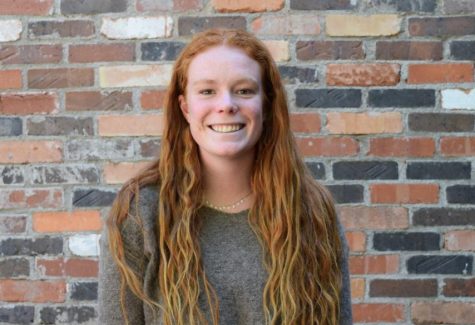 Maeve McGuire, Editor-in-Chief
Maeve is a senior at AHS. This is her third year writing for the Skier Scribbler, now working as Editor-in-Chief. In her free time, she enjoys playing...