AHS switches over to Adidas for sponsorship
Hang on for a minute...we're trying to find some more stories you might like.
At the beginning of the AHS fall sports season, a wave of excitement overtook various teams as they were given new gear, prompting a great start to the 2018/19 school year. Over the summer, the AHS administration decided to drop Under Armour and sign with Adidas for a school sponsorship. Adidas will provide new jerseys, bags, and other items to AHS sports teams as well as attire for fans.
AHS Athletic Director, Martha Richards, is excited for the new deal with Adidas, and everything that they will contribute to the AHS athletic community.
"Our contract was up with Under Armour, and we always look for what is going to be the situation for AHS, who's going to take care of us the most, and Adidas came in with a much better offer. We looked at it from a standpoint of how will they help us with uniforms since we were changing brands, as well as the Adidas commitment to women's sports. A lot of times the girl's sports get second-fiddle, especially in high school, so that was an important one to me was that we had that equal commitment," Richards said.
When the previous contract with Under Armour ended, the Adidas offer was too compelling, financially and based on the Adidas brand values.
"This deal was much better for the school, not just financially, but we liked what Adidas stands for, they are more environmentally conscious, and we really just found that they were the best fit for AHS," Richards added.
AHS senior and football team captain, Noah Hollander, feels that the new deal with Adidas will boost team morale.
"I am really happy with the sponsorship with Adidas this year. Everyone on the football team was pretty excited about being with Adidas instead of Under Armour, and we can't wait to get some new gear and uniforms. Although the brand switch doesn't change the amount of gear we get, our team definitely prefers Adidas to Under Armour," Hollander said.
AHS junior, Bella Williams is excited for the new year with Adidas because of their design and their platform that emphasizes equality measures.
"I think that the switch to Adidas was a great move for AHS because Adidas has good selection and style for all sports teams. In the past, our team (girls basketball) has been somewhat overlooked, and hopefully, that will change with Adidas. Because of the new sponsorship, I am now looking forward to the season more and the new gear that will come with it," Williams said.
AHS freshman, and soccer goalie, Charlie Forster believes that the new partnership with Adidas has already paid off.
"This has been my first season playing sports in high school, and I was not expecting to get custom bags, warm-ups, and jerseys, and I think that it's really nice," Forster said. "Although I never experienced the Under Armour deal, I feel that Adidas is great and I am looking forward to the next couple years of Adidas sponsorship."

About the Writer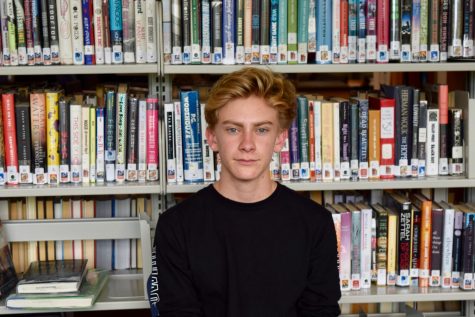 Tatum Diemer, Editor-in-Chief
Tatum is a junior at AHS and this is his second year with the Skier Scribbler, now working as a Layout and Design Editor. In his free time, he enjoys skiing,...