AHS Boys Varsity Tennis wins region title for the second year in a row
Hang on for a minute...we're trying to find some more stories you might like.
Another day, another win for the Aspen High School boys varsity tennis team as they absolutely dominated at regionals for the second consecutive year.
On October 3rd, the Skiers competed in the Class 4A Region 8 tournament in Grand Junction at Canyon View Park. Here they won the region title and qualified all 11 players for next week's state tournament on Oct. 11-12 in Pueblo.
As the boys begin their preparation for the state championship, their coach Steve Sand shared his pride regarding the team's victory.
"The Skiers really stepped up their game at regionals and matched the other team's intensity levels.  I couldn't be prouder of the boys; they practice and play hard, while also having fun and showing their genuine enthusiasm for the sport," Sand said.
Competing against four teams in their region: Basalt, Steamboat, Durango, and Vail — Aspen won all except one match of the tournament. Senior four doubles player Nolan Farrey explained his expectations going into states, and how this win promoted an "indestructible positive attitude" among the team.
"Going into states, our goal is to place in the top three, and I know our team can do it if we keep doing exactly what we've been doing all year: working hard, staying motivated, and exceeding our limits," said Farrey.
With their devoted team dynamic and exceptional playing skills, Sophomore two singles player Christian Kelly clarifies how the Skiers have used this familial team bond to maintain their undefeated title of the 2018 season.
"Even when we're across courts, me and the other players always support each other to keep fighting and grinding it out. Our team's closeness is the main thing that helped us win at regionals, and without it, winning would be impossible," said Kelly.
Along with the team's affable comradery, senior one singles player Alex Ilic further described the team's enduring mindset which has largely contributed to their successes thus far.
"We're headed into states with a winning mentality and ton of confidence. It's my last season at AHS, so I am looking forward to working hard and playing to the best of my ability for the rest of the season," Illic said.

About the Writer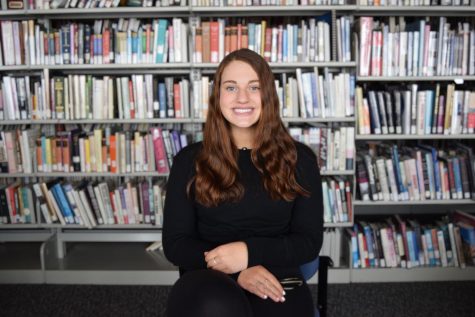 Sophie Schlosser, Staff Writer
Sophie is a new senior at Aspen High School, after being at boarding school in upstate New York for the past two years. This is Sophie's first year as...