Five Unique Thanksgiving Recipes From Betty Crocker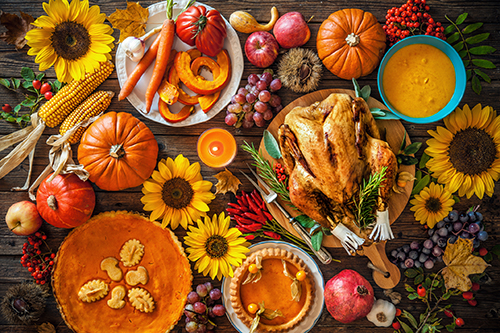 Advertisement
Hang on for a minute...we're trying to find some more stories you might like.
For many, Thanksgiving is all about traditions–eating too much, watching football, and trying to avoid clothing that is too tight. People spend time with their loved ones and eat delicious food that will leave leftovers for a week longer. Even if there is no family around on this special day, use these recipes to eat as you are. Thanksgiving is a holiday filled with classic dishes, such as turkey, stuffing, mashed potatoes, gravy, and green bean casserole. However absurd they may seem, it wouldn't be Thanksgiving without these mouthwatering dishes. This collection of five recipes from Betty Crocker will create a flavorful holiday.
         1. Candied Yam
Ingredients:
2 lbs of sweet potatoes

1/3 cup of brown sugar

3 tablespoons of water or orange juice

3 tablespoons of butter

1/2 teaspoon of vanilla extract

1/2 teaspoon of salt

1/4 teaspoon of cinnamon

3 cups mini marshmallows
Preheat the oven to 350 degrees Fahrenheit.
To start, scrub the sweet potatoes and carefully slice a line around the entire circumference of the potato. Place the potatoes into a large pot of boiling water. Cover the pot and boil the potatoes over medium-high heat for around 30 minutes (until you can easily pierce them with a knife). Put the potatoes into a bowl of ice water. Once they're cool, peel the skins off and cut them into slices.  Place the sweet potatoes into a square baking dish.
For the syrup, place all the ingredients into a pot and bring to a boil. Pour over the sweet potatoes and top with marshmallows. Bake until golden brown (around 25 minutes).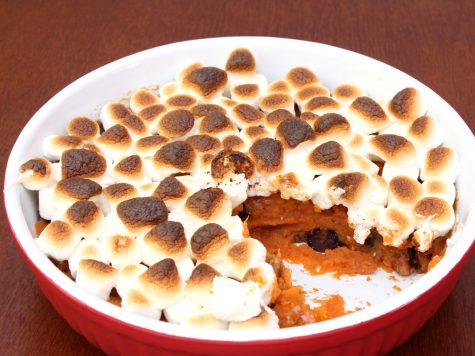 Upside Down Cheesy Onion Cornbread
Ingredients:
2 (6 ounce) packages of buttermilk cornbread mix

1 cup of shredded cheddar-monterey jack cheese blend

1/4 cup of green onion tops

1 tablespoon of butter

1 1/3 cups of milk
Preheat the oven to 450 degrees. Combine cornbread mix, cheese, and chopped onions into a bowl. Heat the butter into an 8-inch baking pan in the oven for 3-4 minutes. Add milk to cornbread mixture, stirring until blended. Pour the batter into the hot pan.
Bake at 450 degrees for 18-20 minutes. Make sure the cornbread slightly pulls away from the pan, that's when you will know it's done. Now you are ready to enjoy!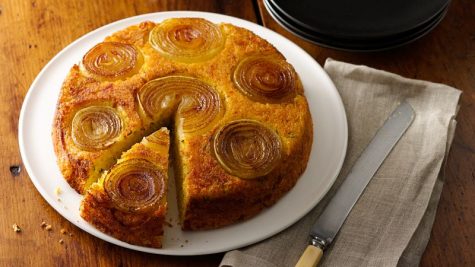 Vegetarian Ciabatta Stuffing with Mushrooms and Chestnuts
Ingredients:
8 cups of 1/2 inch cubes of ciabatta bread

1/2 cup butter

1 cup diced shallots

1/2 cup diced celery

1/2 teaspoon of salt

1/4 teaspoon of pepper

1 lb of cremini mushrooms, stemmed and thinly sliced

1 package (5.2 oz) of chestnuts, coarsely chopped

2 cups vegetable broth

2 eggs, slightly beaten

1/4 cup chopped fresh parsley

2 tablespoons fresh thyme leaves

1/4 teaspoon of grated nutmeg

1 cup of shredded gruyere cheese
Heat the oven to 325 degrees Fahrenheit. Placed cubed bread on ungreased cookie sheet, bake for 10-15 minutes. Cool completely on sheet.
While the bread is cooking, in a 4-quart dutch oven, melt the butter over medium heat. Cook the shallots, celery, salt, and pepper in the butter until tender. Add mushrooms and increase the heat to medium-high. Cook the vegetables for 6 to 8 minutes longer or until the mushrooms begin to brown. After, stir in the chestnuts and broth. Cook for an additional 2 to 3 minutes. Once that is done, remove the dutch oven from the heat and lets the contents cool for 5 minutes.
Spray a 13 by 9-inch glass baking pan with cooking spray. In a large bowl, mix eggs, herbs, and nutmeg. Stir in bread. Pour mushroom mixture into the bowl and stir to combine. Pour it into the baking dish. Cover the dish with foil and bake for 30 minutes. Uncover the dish, and bake for an additional 12 to 15 minutes. Top with cheese and then serve!
4. Vegan Creamy Garlic Spinach
Ingredients:
2 tablespoons of virgin coconut oil

1 medium chopped onion

1 small chopped red bell pepper

4 cloves of garlic, finely chopped

3/4 teaspoon of salt

1/2 teaspoon of red pepper flakes

4 (5 oz.) packages of baby spinach

1/2 cup unsweetened coconut milk
In a 4-quart dutch oven heat the coconut oil over medium heat. Cook onion and bell pepper in oil until tender. Add the garlic, salt, and red pepper flakes; cook for an additional 1 minute.
Gradually add the spinach to the dutch oven, stir until the spinach wilts. Then, stir in the coconut milk. Cook until the milk is heated. Serve this delicious side dish with lemon wedges!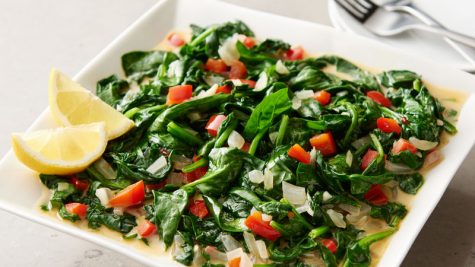 Cinnamon Baked Apples
Ingredients:
6 large apples, peeled, cored, and sliced

1 teaspoon of butter

2 tablespoons brown sugar

3 teaspoons vanilla sugar

1 teaspoon ground nutmeg

3 teaspoons ground cinnamon

3 1/2 tablespoons of water
Preheat the oven to 350 degrees Fahrenheit. Grease a large baking dish with butter. Mix the cinnamon, nutmeg, and both sugars into a small mixing bowl. Layer about 1/3 apples in prepared baking dish. Sprinkle about 1/3 of the sugar mixture. Repeat the layers twice more.
Bake in the oven for 30 minutes. Pour the water over the apples and continue baking until tender (around 15 minutes). Take out of the oven and cool for five minutes. Enjoy!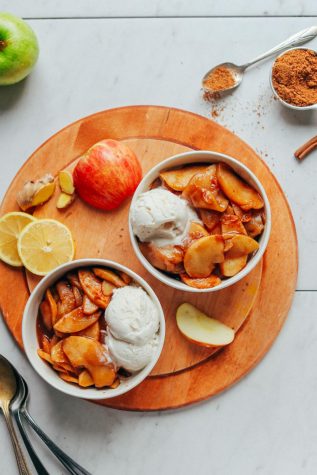 About the Writer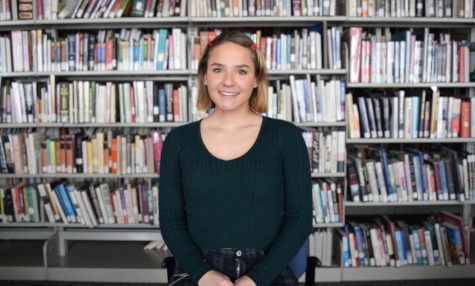 Bella Hoffman, Staff Writer
Bella is a junior at AHS and this is her second year as a staff writer for the Skier Scribbler. Bella is also apart of the AHS Dance Team and spends her...