AHS climbing team kicks off the season
Hang on for a minute...we're trying to find some more stories you might like.
As the winter season hits Aspen, most AHS students are getting out their skis; however, one small group is heading indoors for the season. The AHS climbing team is kicking off the season and already setting goals for the year.
One of the climbing team coaches, Alex Reginelli, is looking forward to the season ahead, and can't wait for the development of the team.
"For this season coming up, I am hoping for students to just continue to push themselves and try hard and to continue to want to learn and grow as climbers. I think it's really important for students to have that sport that really is them versus themselves and not having that constant competition with another team," Reginelli said. "The competitions are really great in the sense that everyone is always supporting one another and they are just a great environment. So I'm just hoping that students stay psyched and keep climbing well, climbing hard, and keep having fun."
Alex Reginelli and Kim Hammond are both teachers at AHS that share a passion for climbing, which prompted them to start the club.
"Kim and I got together, about three years ago, and we started talking about creating a club that would allow students to get together and climb one day a week at the Red Brick in town. Mainly just to give the kids some time to get in there and learn about the sport in a pretty relaxed environment," Reginelli said." So we started putting the pieces together and at that time we had maybe 10 people showing up for the club meetings. Since then the club has grown, and now we have had around 20 kids at the practices, with about 10 of them showing up to the competitions."
Jake Bozza, a junior at AHS and a veteran climber, has been with the club since day one and is very excited for the development to come.
"I have always really loved climbing and when Kim and Alex started the club at AHS I joined right away and pretty much the only one to compete at any of the competitions located throughout the state. However, the club gained a lot of momentum over the last few years, and every day more and more kids would show up to the practices and competitions and become excited about the sport," Bozza said. "I am really looking forward to seeing how this season works out and all the new climbers becoming better and better. It's always fun to see someone complete a climb and that's what makes the club special."
Henry Palmaz, a sophomore at AHS, recently joined the club and recommends it to anyone looking for a different athletic environment.
"A lot of the time, sports take the form of aggressive competitions between two teams, and climbing gives everyone a break from that. I really like to go climb because it's a chill individual sport that allows mistakes," Palmaz said. "I would recommend the club to anyone looking for a new and fun challenge, and who are hopefully not afraid of heights."

About the Writer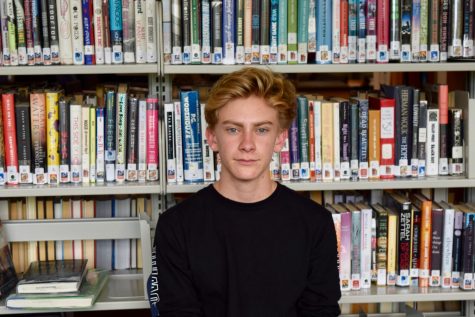 Tatum Diemer, Editor-in-Chief
Tatum is a junior at AHS and this is his second year with the Skier Scribbler, now working as a Layout and Design Editor. In his free time, he enjoys skiing,...