Chris Keleher: An Aspen Running Legend
Hang on for a minute...we're trying to find some more stories you might like.
8th-grade teacher at Aspen Middle School and Cross Country team coach Chris Keleher is driven by his dreams and lives life doing what he loves. Keleher grew up in the valley and is an avid runner who has dedicated his life to mentoring runners and students in the valley. Read on to find out more about this local legend in his own words.
Q: What time and place did running kick off for you?
A: I started running track in 7th grade, then I ran track for four years in high school. I didn't run cross country until my senior year but I then ran in college. It was always running and competing. When I came back to Aspen, I saw the head coach and I said hey could I come run with the team some time and he said why don't you come out today. And it was like a Thursday and so I went out and basically started coaching. That was fall of 91 and I've been doing that since then.
Q: You the head coach of the AHS Cross Country Team, how does this play a role in who you are?
A: I started coaching in 1991 and then started teaching in 1999. My summer job for a long time for all of high school and all of college was that I taught tennis. I think there was always some aspect of what I did that was cumulative. Like when I worked at Ute Mountaineer I helped educate about the gear, and when I was coaching, it was showing the kids about the running. It always sort of gravitated towards teaching whether that was through tennis or running or anything. And then I realized with coaching that I really enjoyed being around the kids and I wanted to do something that allowed me to stay in the valley and to continue coaching so teaching was the logical step. To this day it definitely feels like that was the right move.
Q: What do you love about running?
A: I was running a couple years ago and I was running on the road and this herd of elk started crossing in front of me and for whatever reason, they stopped and so I kind of split the herd and the smell and the sound it was just a really cool thing. And another funny thing is that I'll be out there on some trail in basically the middle of nowhere and have the trail to myself and around the corner here comes Travis Moore or Ben Dodge and some of these people who are good friends of mine who I revere as athletes and people. Its kind of hard to explain but it is just totally different every day. Long story short it just never gets old. It clears my mind. It's a great way to think. It's just a good way to roll things over with my head and be present and be in the world.
Q: Considering all of the above main topics (teaching, running, coaching etc…), what do you feel defines you best?
A: I don't know how I would define myself. I think that other people think that of me. I think other people would define me as a runner, teacher, and maybe that changes every day. Like today, I'm a dad– breakfast making, lunch making, snowman making, nap getter, laundry guy, emptying the dishwasher…today's a dad day. There are so many different ways to define people.
Q: In all of your running career what has been the most memorable experience?
A: There are so many, I've been blessed to work with some really talented kids and watching those kids mature into some extremely talented runners. There are just so many kids that are just outstanding and just really great people. That's been the best part, I mean yeah they are really talented but they're just really fun to hang out with. I think winning a state championship with the girls in 2001 was definitely a highlight. And having some of the kids I taught and coached carry the Olympic torch with me was really cool. The other thing that is really cool is taking a team that is not supposed to do anything. Like this year's boys team we were ranked 6th out of 14 going into the Regional Championships and they ended up getting 3rd and going to states. There were a  lot of teams that just completely discounted us and didn't think they were capable of doing anything. So I think that's one of the cool parts of coaching is taking a bunch of kids who are really hard workers and have a lot of fun doing it and doing something that not even they are aware they are capable of doing.
Q: Do you have a life motto or quote that sticks out to you? Something that you believe is worth following?
A: I think that changes every day too. I quote Prefontaine a lot, "to give anything less than your best is to sacrifice the gift." That I think is a great way to look at anything. If you have a mind for mathematics and go at it half-heartedly you're sacrificing the gift you have. I don't particularly like the saying "go big or go home" but how about just going big. Give everything you have for what you do. If you're going to teach, be a really good teacher, and if you're going to be a student, don't half your paper. Pour some heart and soul into it.

About the Writer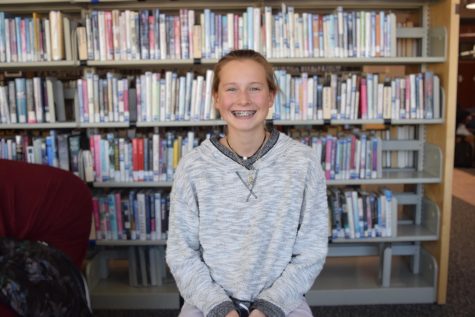 Stefani Wojcik, Staff Writer
Stefani is a sophomore at Aspen High School and this is her first year as a Staff Writer for the Skier Scribbler. She hopes to continue writing for the...