AHS Graduates Panel
Leaving the nest- or the mountains for AHS students- is an intimidating feat for any high school senior. Luckily, recent AHS graduates were able to share their college experiences and wisdom with a crowd of AHS students and parents during the Graduate's Panel on January 9 in the seminar room.
One common concern many students carry going into their freshman year of college is that they're not well prepared for the academic challenges they face ahead, especially coming from the small public school of Aspen High School. Molly Scharlin- Ben Hamoo, a freshman at New York University (NYU), shared her experiences of managing her rigorous academics compared to the IB classes she was enrolled in at AHS.
"In a lot of the IB classes you have to write a lot of long research papers, especially IB History, but often in college, they ask us to write a 10-page paper in a week," Ben-Hammo explained. "I was prepared for it in a sense but it's a lot quicker than in high school. You're expected to pull out your best work in a lot less drafts."
Another daunting aspect of college academics is the idea of attending classes as large as the student body at AHS and expecting to get to know your professors well, especially coming from AHS, where students address their teachers by their first names. Freshman at Colgate University in upstate New York, Maddy Leibinger, shared her advice to get acquainted with professors, comparing it to making new friends.
"Yes, they are professors, treat them professionally but they have been in your shoes once so they understand what you're going through, so if you make an effort to get to know them, they will want to know and help you," Leibinger said.  
Deciding what you want to study in college and eventually what you want to do with the rest of your life is a stressful and crucial decision college students are tasked with deciding. A sophomore at Columbia University, Nikiri Gallagher, attempted to ease some of the agonies of this intense decision.
"I think it's important to remind yourself that you don't have to go into college knowing what you want to do and it's easy to get caught up with the people who have their 20-year plans and know they want to be doctors or politicians or whatever. It's ok to remind yourself that you have time to figure that all out," Gallagher said.
Moving to a new place, with all new people and having to make new friends is a scary concept for a college freshman. Luckily, for CU Boulder sophomore, Hugo Alejandro Saucedo, a built-in best friend came with his new roommate.
"We get along very well and we have very similar lifestyles. But I guess for me I kind of had a realization that I wasn't pushing myself more to meet different people outside of what I was comfortable with," Saucedo said. "If you get lucky enough to have someone that you're really close with, try to step out of your comfort zone and do something more."
Molly Scharlin Ben-Hammo had a very different experience with her roommate during the first semester of college but shares her advice to ease any conflict or awkwardness.
"Here's my advice: when you go in, you need to just tell them what you need to make it a safe living environment. Some things you think are common sense, might not be. I really wish I laid down some boundaries when I first moved in so that I could enjoy myself in my room sometimes," Ben-hamoo said. "Now I have to go back and have an awkward conversation about how there's a lot of things bothering me and if I had just said these things earlier, it wouldn't be awkward, it would just be a healthy way to start the year."
With new friends, comes new cliques and drama, luckily for University of Pennsylvania freshman, Jordan Fox, high school cliques and drama is not an experience she had to worry about.
"In college, you kind of don't have that pressure to find the perfect friend group. You kind of end up hanging out with different people," Fox said. "I have friends from different clubs and classes and while you still kind of artificially construct a friend group, maybe those aren't the people you spend the most time with because you don't really need to have that pressure."
About the Writer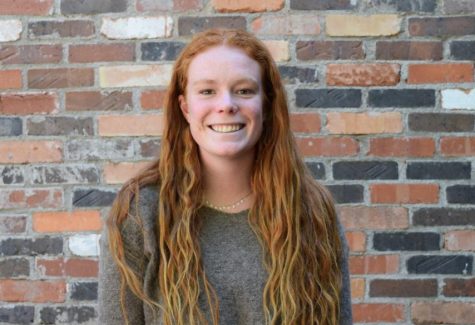 Maeve McGuire, Editor-in-Chief
Maeve is a senior at AHS. This is her third year writing for the Skier Scribbler, now working as Editor-in-Chief. In her free time, she enjoys playing...