Gabriel Rico: The Discipline of the Cave Exhibit at the AAM
The Gabriel Rico: The Discipline of the Cave art exhibit at the Aspen Art Museum (AAM) conveys the themes of confusion and disarray though intriguing sculptures and a unique layout. Rico uses mediums such as ceramics and taxidermy to set his work apart and create an exhibit unlike any other.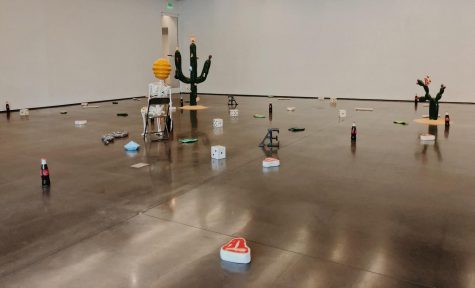 Rico is based in Guadalajara, Mexico, where he creates a majority of his contemporary surrealist artwork with found objects, neon, and other mediums. His artwork has been featured in many solo shows around the world, including one at the Arizona State University Art Museum.
The AAM exhibit features small, colorful ceramic sculptures of various everyday objects scattered seemingly randomly around the floor, purposefully confusing the viewer. Three larger ceramic sculptures stand much taller, creating an obvious contrast. In the other room, one is hit with the smell of pine from layers of tree branches that hug the walls. Another part of this installation is a series of taxidermy animals that face away from the entrance towards an abstract sun, creating an eerie feeling.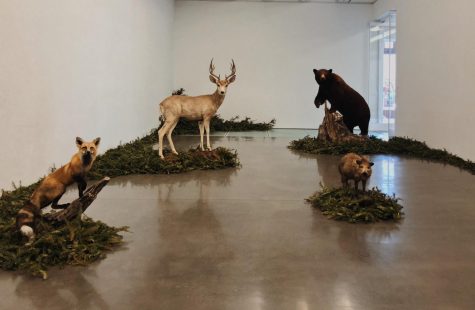 Some works, such as Coke (2019) and Dice (2019), are familiar everyday objects depicted as art. Rico includes these in his exhibit to create a safe atmosphere with whimsical and childlike objects that feel unthreatening and normal. Other works, such as Metawoman I, (2019) are much more unsettling, as it features a skeleton with a beehive head sitting in a chair. Also, one of the cactus sculptures features a sausage arm instead of its natural plant form. Rico creates this uncomfortable feeling and contrast through his sculptures to comment on humanity today and the balance between it and nature.
"Normally when I find an object it has to give me something, some feeling," Rico stated in a press release. "I think I am a collector. This is a very nice excuse to use my collection for work."
About the Writer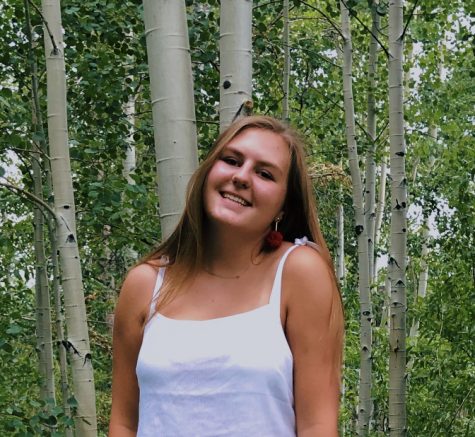 Tessa Guthrie, Editor-in-chief
Tessa Guthrie is a senior at AHS. She is currently one of the Editors-in-Chief. This is her fourth year writing for the Skier Scribbler. She loves to ski,...