AHS 2019/20 Head Boy and Girl Candidates
The role of head boy and girl at AHS is one of great prestige and honor. However, as Peter Parker's Uncle Ben once said, "with great power come great responsibility." In the upcoming weeks, a select group of AHS Juniors, brave enough to attempt to manage AHS's greatest responsibilities, will be campaigning for the esteemed positions of head boy and girl. Among the 2019 candidates for the head girl are Taylor Mckie, Lauren Fox, and Louise Lipsey. The group of boys competing for the position of head boy consists of Will Laing, Sam Navies, Ethan Hunt, and Jack Halferty.
Taylor McKie:
When she is not binge-watching Law and Order or Criminal Minds, Taylor enjoys spending her free-time playing lacrosse, ski racing or hanging out with friends. She is also a very committed student, both inside and out of the classroom, dedicating her time to FBLA, student senate and her passions in history and math. Taylor is excited about the possibility of representing the student body and being their voice to advocate within the administration.
"I want to give students the opportunity to be a part of the discussion and bring Student Senate back to representing the student body rather than the administration," Mckie said. "I also hope to change the atmosphere by creating a safe and fun environment through an increase in school spirit."
Lauren Fox:
For AHS Junior, Lauren Fox, her head girl candidacy campaign revolves around her central objective of enhancing school spirit. Outside of class, she enjoys playing volleyball and lacrosse and co-leading Model UN and the Women's Empowerment Kickboxing Club. She is also a Spikeball and Indian food enthusiast. Fox believes this is a perfect opportunity for her, and Jack-who she is running alongside- to make a significant impact on, and hopefully, have a positive influence on AHS and the student body as a whole.
"Some of the ideas I have is to create houses, kind of like in Harry Potter, and there can be senior leaders in each house that plan fun activities out of school like Spikeball tournaments, capture the flag games, and Big Wrap lunches. I think this would just be a good opportunity for students to meet and hang out with people in different grades," Fox said. "I am also interested in creating a color run or mud run in the spring to help raise money for a certain club or foundation."
Louise Lipsey:
Creating a safe, dependable and inclusive environment for AHS students is head girl candidate, Louise Lipsey's primary goal for her potential candidacy. "I am running for the head girl because I have noticed many underlying problems that occur in Aspen High School and the inability of others to acknowledge or act on them. I feel that there are unspoken boundaries and rules that students must abide by," Lipsey said. "I believe that unity is a key factor in creating a safe and inclusive atmosphere."
Some specific changes Lipsey hopes to make to AHS next year is the addition of more tables on the beach, a suggestions box in the cafe, new furniture in the library, and a more efficient WiFi router. These developments will hopefully be accompanied with the abandonment of plastic silverware, puppies during finals week, increased attendance at sporting events, and Music Wednesdays. When Lipsey isn't acting, dancing or skiing, she enjoys spending time at the movie theatre or in Mr. Reed's philosophy class. One of her main passions at AHS is spreading good vibes.
Ethan Hunt:
As a very outgoing person, Ethan Hunt feels he would fit the role of AHS's head boy exquisitely. "I'm running for the head boy because I think that I would be able to advocate for the student body well and that I can facilitate a lot of change in a lot of places that other candidates can't necessarily see," Hunt said. "I think I'm an approachable person and I want to be here to facilitate change. If any students have suggestions, or they need a shoulder to lean on or anything from me personally, I consider myself a great resource for people to go to.."
Hunt's passions in school include writing, English, and he really enjoys public speaking, all attributes he believes will conceivably help create a successful candidacy. He also enjoys playing on the high school soccer and hockey team as well as creating music. The specific developments Hunt hopes to make to AHS next year fixate around his goal of connecting AHS with the business world as well as internationally, hopefully giving students more opportunities for cultural opportunities around the world. He also hopes to add the option of caffeine to the cafe.
Sam Navias:
Sam Navies aspires to increase school spirit and give students the opportunities to implement and contribute some of their ideas to AHS and student senate. "I'm running [for head boy] because I would like to vote for someone who's as willing as I am to create an environment with endless school spirit, but I don't think any of the other candidates can [provide this]," Navias said. " I'm hoping to incorporate more ideas from the student body into the school by creating a platform that allows students to make suggestions and share their ideas."
Outside of school, Navies enjoys appreciating and taking advantage of the beautiful outdoors, considering "we live in one of the greatest places on the planet." In school, some of Navies' greatest passions lie within math, physics, and history.
Jack Halferty:
With Jack Halferty's openness to change, understanding of how Student Senate is run, and dedication to making AHS the best place it can be, he believes that he is the best candidate for the head boy. "I'm running for head boy because I believe I have great school spirit and good leadership qualities that will help me advocate for our students and build a kind atmosphere where everyone is welcome and all opinions are embraced," Halferty said. "I consider myself as a nice person that is very welcoming and open to all people, suggestions, and ideas."
Next year, if elected as head boy, Halferty hopes to allot more time, energy and projects to Student Senate to help give power back to the student body. Some advancements he is hoping to make to AHS and Student Senate is the option of possibly sitting in on staff meetings to see if there's anything he can do to help and facilitate discussion on both sides. Running alongside Lauren Fox, he is also interested in rebooting music Fridays with the addition of lip sync battles between sports teams and different groups of people. Outside of Student Senate, Halferty enjoys playing lacrosse, football, and spending time with friends. He can also throw up any object and catch it in his mouth effortlessly.
Will Laing:
In his time outside of school, Will Laing enjoys playing lacrosse, racing for the AHS ski team, spending time with his friends, and cooking. As Head Boy, Laing hopes to welcome and embrace ideas and suggestions from all people and leave a lasting impact on AHS and the student body at large.
Next year, he also hopes to increase participation in the class cup, create more insightful rewards, such as a dunk tank, incorporating dance competitions into music Fridays and establishing more fundraising opportunities for students. "I want to make a greater attempt in getting the voices of students heard because I feel they need to have a say in what goes on just as much as students in Student Senate do," Laing said. "Also [I want to create] what everyone wants, better snacks and more safety in terms of driving."
About the Contributor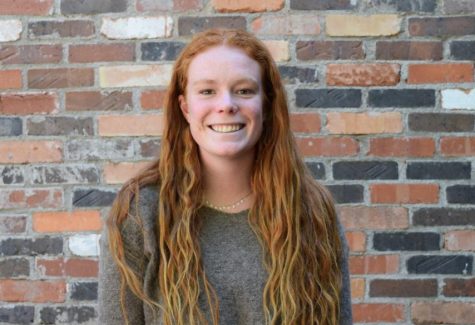 Maeve McGuire, Editor-in-Chief
Maeve is a senior at AHS. This is her third year writing for the Skier Scribbler, now working as Editor-in-Chief. In her free time, she enjoys playing...