AHS robotics teams: creativity, collaboration, and the Cha-Cha Slide
Picturing a robotics team usually conjures images of people behind computer screens in a dark room programming and building machines to move and take over the world. The AHS Robotics team offers many more opportunities than meets the eye.
There are three separate robotics teams within the robotics program of AHS: Backcountry Robotics, AHS RoboYetis, and Black Forrest Robotics. All teams participate in competitions. On any given afternoon you might find these teams coding instructions for the robot, designing a business or outreach plan for the team, or creating a visually appealing journal to present at robotics competitions. There is a role for every student and every interest in the robotics program.
Jeremy Martin is a part of the AHS RoboYetis. He is a junior at AHS and has participated in the robotics program all three years of his high school career.
"I joined robotics because it gives students opportunities to take what they learn in school and apply it in a tangible, real-world situation. I don't program and I've never built a robot, but I love being able to take skills that I don't always get to use – public speaking, writing business plans, doing social outreach – and being able to use them in pursuit of a common goal, and doing it all as part of a team," Martin said.
Robotics allows students to explore all areas of interest such as computer-aided drafting or public relations, but it does not have to be the main focus of a student's life. One member of robotics participates in both designing robots and three varsity sports.
Team captain of Black Forrest Robotics Alex Appleby has an affinity for sports and is a Junior at AHS.
"[Robotics is] like a sport because it functions like a sport with teamwork. We also put in just as many hours, if not more, but we also have that community. Robotics is modeled like a sport, but the one quote we get every competition is that 'anyone can go pro', meaning that anyone can get paid to do this," Appleby said.
The high energy and pure fun often associated with playing a sport can also be found in Robotics Competitions. Teams prepare their Engineering Notebooks, containing every decision ever made by the team, booths for other teams to look at, and of course, the robot, and are able to show them off at FTC competitions. These competitions allow for teams to intermingle and bond, along with providing qualification opportunities for larger competitions such as Worlds and States. During these competitions, all teams are in costume, and it is rumored that the cha-cha slide is played every comp.
One major enthusiast for these competitions is Tatum Johnson, a junior and team captain of Backcountry Robotics. Johnson handles the engineering notebook for the team along with dabbling in a little bit of everything else, just as most members of robotics do.
"My favorite part of being on the robotics team is going to competitions. We work so hard the whole season, and it really pays off when we actually get to compete with the robots on the field. It's very satisfying to see our progress over the year, and we have a lot of fun bonding with other teams and each other on the trips," Johnson said.
The opportunity to develop skills in almost anything one can imagine, a chance to build bonds with other students, and energetic competitions are all things possessed by the Aspen High School Robotics Program. Alex Martin, a junior and member of the AHS RoboYetis values these attributes.
"It's an exciting concept being able to have the resources at a high school level to create a competition-worthy robot with other people who are as equally passionate as I am," Martin said.
About the Contributor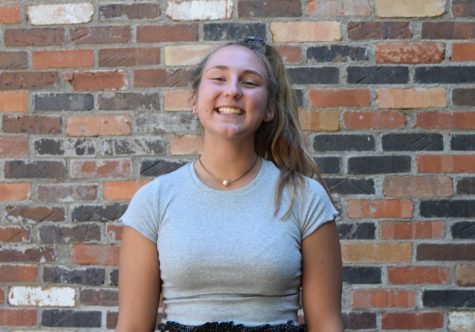 Emily Kinney, Editor-in-chief
Emily is in her senior year at Aspen High School and has spent three years writing for the Skier Scribbler. This year she is excited to be part of the...