The un-toad story of Toad
Instead of wearing a backpack, Aspen High School's newest student, Toad, can be seen walking through the hallways wearing a leash and wagging his tail. Toad is a service dog meant to provide stress relief to the students of AHS.
Toad is a three-year-old golden retriever labrador mix and is owned by the Butler family, whose daughter Folbe Butler is in the seventh grade. Folbe will be using Toad as her Autism Assitance Dog when she comes to AHS, but until then Toad is being used to help students at the high school deal with stress.
The Butler family did not have a say in naming the dog Toad. When he was a puppy, Toad attended the 4Paws for Abilities School where he learned to be an Autism Assitance Dog. It was there that the name "Toad" was chosen. Marla Butler is the owner of Toad and has experience with service dogs.
"To avoid their service dogs accidentally hearing their names called, they do not use human names. Toad is named after a video game character. In the game, Toad is a guardian or helper," Butler said.
This furry friend is a guardian and helper indeed. Becky Oliver is a Student Achievement Teacher at AHS and Toad's handler when he is at school.
"If kids are feeling frustrated or if they just need a break, they might go take Toad for a walk. [Students] love seeing him, and there are kids from other classes who will come into my class… if they need a quick break, and get some 'Toad Love' and go back to class. It's been a really awesome stress reliever for kids and staff, actually. Teachers like to track down Toad as well and come get some 'Toad Love'. If students want to walk Toad at lunch, they are always welcome to come ask me and come take him for a walk," Oliver said.
Students can interact with Toad in a variety of ways from taking him on walks to giving him pats in the hallway. Delaney Tullar is a junior at AHS and manager of Toad's Instagram account, @toad_the_skier.
"I love being with Toad. He is so calming. He is the sweetest, most comforting dog," Tullar said.
While Toad is a resource for high school kids currently, his future purpose will be to act as an Autism Assitance Dog for Folbe when she enters high school in two years. Toad practices his service dog commands most days in order to prepare for this. Though Toad is a service dog with a job, he is still a support service for students all students.
"Oftentimes students or teachers will ask me, 'can I pet him, can I love him? It's a service dog.' This is a kind of service dog that you can touch, whereas a seeing-eye dog, you shouldn't touch that dog because they're working and it will distract them," Oliver said.
Because Toad's main duty is to comfort students, Oliver encourages anyone who might need a little 'Toad Love' in their day to take advantage of this amenity.
"If anybody's feeling like they're having a rough day and need a little love, dogs can definitely fill your heart so come visit. My office is in the counseling department," Oliver said.
About the Contributor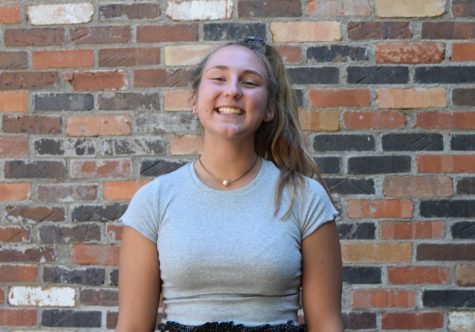 Emily Kinney, Editor-in-chief
Emily is in her senior year at Aspen High School and has spent three years writing for the Skier Scribbler. This year she is excited to be part of the...