AHS's lack of school spirit
AHS's current school spirit is lacking. At this years' winter pep rally, less than half of the seniors showed up to support their school. The lack of school spirit makes many ponder: what causes AHS's spirit to differ so much from other high-spirited schools?
School spirit is vital, as it instills motivation and inspiration into students. Without it, a school's community will not function as well, and the student body will have less motivation to get involved within the school curriculum.
Theoretically, a school's spirit represents a smaller form of community identity. The way that the students, teachers, and staff harmonize influences that school community. However, the school community and the amount of positivity and pride it has reflects within the school spirit.
AHS IB English teacher, Alexis White, has taught at two previous high schools and one of those schools, Gentry High, in Mississippi, is well known in the Indianola community for its impressive school spirit. White gives a unique view of how Aspen's school spirit differs from Gentry's.
"In Mississippi it was like the precedent, being apart of that small community, [that] everybody went to that high school. Your grandmother went to Gentry High School, your mom went to Gentry High School, and you went to Gentry; it was tradition, and it was a legacy. School spirit wasn't an option; it's what you did because of who you were. Here, I see kids opt-in and out of school spirit," White remarked.
The students in AHS's community are choosing whether to support their school or not, which manifests into a lower school spirit. General low esteemed feelings throughout the school body negatively impact the spirit as well. However, Student Senate, as well as the school's head boy and head girl, are making an effort to change this circumstance.
A senior member of the Student Senate, Louise Lipsey, hopes that the Senate will continue to boost school spirit by strategizing ways to build a better school community.
"Student Senate has been trying to raise school spirit by creating a more encouraging environment to participate in different activities, such as creating houses in hopes of students creating alliances between different grades and creating more excitement around joining in activities outside of school. Also, our winter spirit week this year was founded off of doing different and unique themes to make students more enthusiastic about participating," Lipsey said.
The efforts of AHS's Student Senate give a strong push to a better spirit, and it is the hands of the student community to improve the current spirit situation. Improving school spirit is student-led and student-driven, so without the efforts of the whole student body, this goal is not achievable. Without school spirit, there is a weak school community. If willingness within students to better spirit increases motivation will spark, and that uplifting feeling will finally become a heartwarming reality.
Andrew Carnegie is credited with our modern version of the school system, and he visioned harmony between students and teachers. One could say he "invented" school spirit. As Carniegeonce once said, "You cannot push anyone up a ladder unless he is willing to climb a little himself."
Leave a Comment
About the Contributor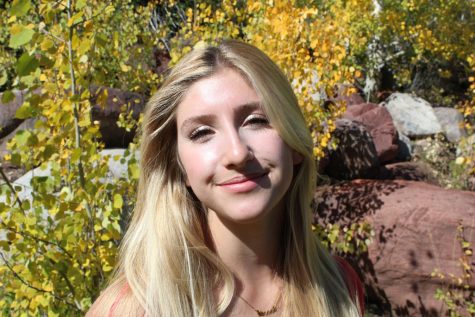 Hannah Smith, Editor-In-Chief
Hannah Smith is a senior at AHS and an Editor-In-Chief of the Skier Scribbler. This is her third year writing for the paper. In her free time, Hannah loves...