Some good news
Some good news
From hosting a virtual prom with celebrities such as Billie Eilish and the Jonas Brothers for the class of 2020 whose prom was canceled, showcasing displays of appreciation for healthcare workers, and even broadcasting from The International Space Station, one news channel is showing everybody that there is still good in the world, even during these difficult and uncertain times.
This channel is Some Good News, aka SGN, and it is hosted by John Krasinski. The channel showcases a variety of positive events that are happening across the globe, and it has been a hit, surpassing 1.5 million subscribers and 25 million views within its first week of broadcasting. SGN aims to show that even though the world is in the midst of the COVID-19 crisis, there are still countless uplifting stories going on everywhere.
With many overwhelming headlines dominating the news, it can be hard to see a light at the end of the tunnel. But Krasinski has highlighted even the smallest good happenings to brighten people's day. In the first and second episodes of the show, he shows how people are coming together despite social distancing, such as a man who sings "Amazing Grace" to his wife, who couldn't have visitors, through the window of her nursing home. Through all of the heartwarming stories, Krasinski creates a positive message that is refreshing to hear during a time of crisis.
"Yes, without question, we are all going through an incredibly trying time. But throughout all the anxiety, through all the confusion, all the isolation," Krasinski said, "Somehow the human spirit still found a way to break through and blow us all away."
The pandemic has caused many to lose their lives and devastated the world, but in a time of isolation it has also brought people together. From coming together to salute the incredible work of the healthcare workers on the frontline, to the parade of cars welcoming a girl home from her last round of chemotherapy, Some Good News, as well as other news sites dedicated to sharing good news have proved that there is hope in the world. According to an article by the New York Times, there is a demand for positive news.
"It's not that people don't want news about the coronavirus,they just want news about it that's more positive or that are showing people come together and fight this and offering ways individuals can help," said Ms. Lori Lakin Hutcherson, the editor in chief and founder of Good Black News, another news network dedicated to bringing uplifting news to people around the world.
During this time, we can all use some good news, and that is just what SGN and other news channels such as Good Good Good, The Daily Break, and Global Positive News Network are dedicated to doing–sharing positivity and hope.
"I'm asking you to remember no matter how dark it gets, there's always good in the world," Krasinski said on his show.
About the Writer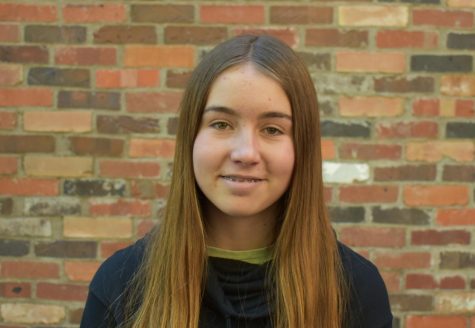 Harper Axelman, Staff Writer
Harper Axelman is a sophomore at AHS and this is her second year writing for the Skier Scribbler. She is a staff writer and she enjoys spending time outdoors,...