For the mind, online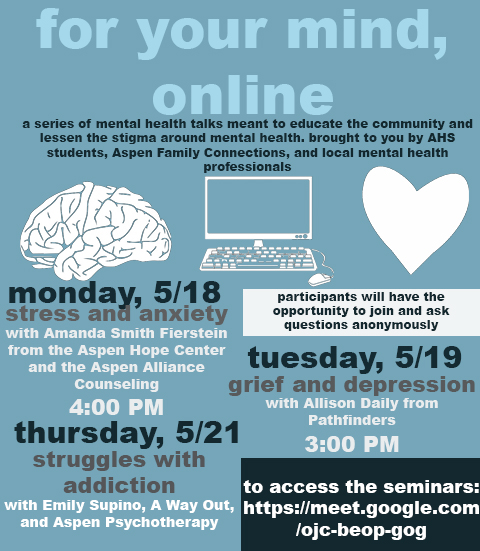 As school's shift their educational approaches from traditional to online learning, students are also adapting and finding new ways to accomplish things online.
AHS juniors, Emily Kinney, Jack Blocker, and Hannah Yeary, focused their CAS IB Diploma project on reducing the stigma around mental health through collaboration with mental health providers in the community. The students originally planned to put together an in-person mental health fair at the school and hoped to set it up similar to a science fair, where various booths would be stationed with mental health providers who could talk with students. The three were working hard to make this possibility a reality when things took a sudden turn, and AHS closed due to COVID-19.
Despite the circumstances with the school closing, Kinney, Blocker, and Yeary persevered. The idea came to mind that if schools shifted to online learning, they could host the mental health fair in an online format as well.
Kinney expressed the vitality of mental health and community collaboration.
"We feel that mental health is something that is important at all times, but with the current state of the world, we felt it would be more important than ever to put together a mental health fair to help support and bring the community together," Kinney said.
The students pursued this online format, and named it "For the Mind, Online." The new online format enabled students and mental health professionals to chat through Google Hangout, a software where people can communicate over video. They successfully created a space for people to openly speak about mental health, as well as ask questions and hear from mental health professionals. The format also allowed students to join and ask questions anonymously, an additional benefit that an in-person convention would have not had.
Blocker is content with the goals achieved through "For the Mind, Online."
"I almost feel as if the online format is closer to our original goal than the person to person format would have been. The goal was to destigmatize talking about mental health while also bringing attention to it," Blocker said. "In addition to being closely aligned with our original goal, as I previously said, it has never been more relevant in a situation where social isolation and online school have been taking a toll on all of us."
In the valley, there have been recent pursuits to spark more conversations about mental health, and reduce the stigma surrounding it. In February, there was a mental hygiene conference hosted to reduce stigma around mental health, and now students are putting forth efforts to help achieve the same goal. Connecting as a community has gotten increasingly difficult with social distancing and the Coronavirus, but the achievements from these students demonstrate that even through times like these connections can be reached.
"It has never been more important to connect as a community, and while I agree that the online format is not convenient, and everyone wants to see each other, in school and in life, it has never been more important to create events where the community can interact," Blocker said.
About the Writer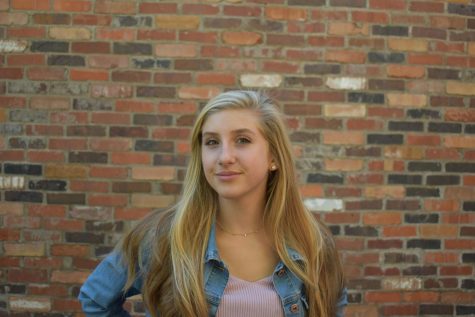 Hannah Smith, News Editor
Hannah Smith is a junior at AHS. She is a news editor, and this is her second year writing for the Skier Scribbler. In her free time, Hannah loves to play...