Sweetdark, a new poetry book by Savannah Brown
In the past few years, minimalist poetry books with silky covers and delicate drawings on every other page have taken over America. Rupi Kaur, Caroline Kaufman, and Courtney Peppernell, are just a few authors whose books have sold by thousands and appear to be mainly marketed towards young women. Youtubers have also hopped on the poetry trend. Among others, Gabbie Hanna and Trisha Paytas have both released their poetry collections which have been met with harsh criticism, but from these ashes rises another breed of poet: Savannah Brown.
Savannah Brown started her poetry career over six years ago, publishing her work on Youtube and then printing her first book in 2016, Graffiti (and other poems). After gaining quite a bit of attention for her slam poem, What Guys Look for in Girls, she continued her Youtube career and still occasionally posts videos updating her viewers on her mind and life. Brown has also published a novel, "The Truth About Keeping Secrets", published March of 2019, that has been met with generally positive reviews.
Savannah Brown was lucky to have started her writing career as poetry books became a larger trend across America, but luck isn't what makes her new poetry collection, "Sweetdark,"stand out.
Sweetdark is Savannah Brown's next poetry book that is set to be released early October. The book explores many different themes, such as death, growing, and love, with an existential and drastic tone that colors each poem in varying shades of doom. The thing that sets this book apart from other mainstream poetry books is that Sweetdark takes an emotion/event and magnifies it perfectly in a cluster of metaphors and elegance. Reading the poems in Sweetdark feels like pouring sweet cream into a cup of dark coffee or walking barefoot over shattered glass. Brown not only captures beautiful moments in her life, but she also vividly writes them on paper.
The word choice in Sweetdark is another attribute that makes the collection sound so well put together. Every word is precisely chosen. Each use of figurative language is like a sword slashing through the air in a bold, clean strike that has the reader thinking hard about the meaning while also admiring the beauty of the poem. Every new page brings a fresh poem and each tells its own individual story. The poetry that is in Sweetdark reads like a snapshot in time and feels like the reader is intruding on intimate moments that Brown never meant to exploit, but rather meant to write into history.
Set to be released on October 8th, Sweetdark is highly anticipated and adds another masterpiece to Savannah Brown's portfolio. Signed copies of the Sweetdark can be pre-ordered on her website: https://www.savbrown.com/sweetdark
About the Contributor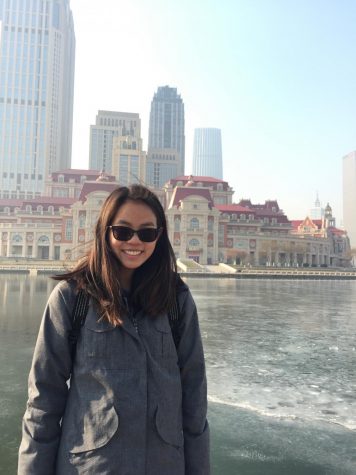 Aja Schiller, News Editor
Aja is currently a senior and has been writing with the Skier Scribbler since she was a freshman. She's spent her quarantine growing new plants, reading,...