AHS's virtual college tour opportunities
In the typical year, college admission representatives from across the country travel to visit high schools and connect with students who are interested in attending the represented colleges. With travel currently limited, the in-person interactions between high schoolers and college representatives cannot be fully replicated. However, high schools such as AHS have found ways to continue to have these valuable communications virtually.
According to AHS post-secondary counseling, there are more than 40 virtual seminars scheduled between now and October. The continuation of connecting students with admission reps is crucial, as it helps students in their decision making regarding post-secondary schools. College counselors also attend to guide both the students and the admission reps through the meeting process.
AHS post-secondary counselor, Charlie Laube, participates in these virtual college conferences in hopes of maintaining the goals that in-person visits sought to achieve.
"I look at [the goal of these meetings] as a two-pronged approach. One is that we just want students to get familiar interacting with admissions representatives. To be able to humanize the person who's probably going to be the reader of your applications is a great opportunity to make an impact and see them as the individuals they are. And then of course the second is to gain knowledge of the school itself. So relationship building and acquiring knowledge," Laube said.
Many students benefit in the ways Laube discussed, and there is an average attendance of 1 to 5 students in each online visit. These online visits will give the student attendees an informative overview of the college via photos, videos, and a more in depth look at the student body. This aids students in deciding whether that campus is the right fit for them.
These meetings have exhibited successful outcomes and even unpredicted advantages to the switch over to virtual meetings. Susanne Morrison, post-secondary office manager, is optimistic about the shift to virtual seminars between students and admission reps.
"This is something that kids didn't really have access to in previous years. At the college fair, maybe there is a long line of students waiting to talk to the rep [the students] are frazzled. So, in a way, this [moving to virtual seminars] is a positive outcome of this change. There's more one on one access between students and their admissions reps," Morrison said.
This virtual experience, for admission representatives, of hosting these tours virtually has also proven to be more beneficial than disadvantageous. Admission representative of Union College, Rachel McNeil, appreciates the newfound flexibility and one on one time.
"It makes our schedule so much more flexible to not have to actually travel to a place and drive between schools. You can dedicate more time to being able to sit and meet with students at times that work conveniently for them. I think that [with] the students that I have talked to over zoom, the conversations have been longer and more in-depth than they typically are when I'm in person," McNeil said.
Overall, the transition to virtual interactions between students and college reps have been a success at AHS according to McNeil, Laube, and Morrison. Thanks to the coordination between college counselors and admission representatives, students are still able to fully get this experience and acquire knowledge about schools they are expressing interest in. COVID-19 may disrupt in-person interactions; However, it has not dampened AHS's ability to persevere and find new ways to give students the tools they need to be successful after high school.
"I would want students to know that they should definitely take advantage of this opportunity. It's a great way to learn about schools and it's also a great way to connect with the admissions rep. Kids, just take advantage of it," Morrison said.
*Information about accessible college tours can be found through Scoir and the 11th and 12th grade google classroom pages.
Leave a Comment
About the Contributor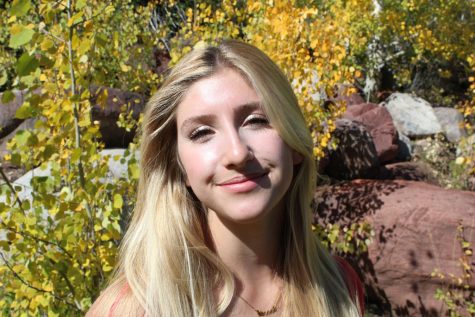 Hannah Smith, Editor-In-Chief
Hannah Smith is a senior at AHS and an Editor-In-Chief of the Skier Scribbler. This is her third year writing for the paper. In her free time, Hannah loves...