Local restaurants (mis)handling of COVID-19 regulations
There are many regulations for restaurants to follow in order to be open during the COVID-19 outbreak. The Pitkin County Response and Recovery website labels them as "The Five Commitments to Containment," which are: maintaining six feet between people who are not in the same household, frequently washing hands, wearing a face covering in public, staying home if sick, and seeking testing if symptoms are experienced.
Restaurant-specific regulations in Pitkin County dictate that restaurants must limit groups to eight or fewer. Restaurants can have up to 50% of their maximum capacity, as long as there are not more than 50 people per room, and each table is at least six feet apart.
Local restaurants in Aspen have been open and serving customers since early June. The cleanliness quality varies from restaurant to restaurant. I went to four different restaurants to observe how they operated under the new constraints.
Hickory House
4/10
The Hickory House is a local breakfast favorite. They have blocked off tables to ensure that customers will be dining six feet apart. Inside and outside seating is available, but the tables on the outside appeared just barely six feet apart which means that the chairs could be less than six feet apart. As I sat in the dining area, I carefully watched each employee as they made their rounds. I observed an employee taking their mask off while near the drink station (the place where they serve coffees, sodas, hot chocolate, etc), and while in the kitchen. However, most employees kept their masks on.
An essential part of operating during COVID-19 is frequently washing hands. As each server bused a table and went into the kitchen to put away the dirty dishes, I timed them. According to the CDC, people should be able to hum the ABCs twice for a full clean. There was not a single time where I hummed the ABCs twice before the server reemerged to check on their tables or with another plate of food. It's not a law or regulation to wash hands between busing tables, but it's more sanitary and ensures patrons a clean environment.
There were also several small things I noticed, such as servers not sanitizing the sugar holders before putting them away again, or the barbeque sauces already on the table when I sat.
After asking an employee a few questions, he said that the maximum occupancy per table was eight people, but if there's a large family, they let them sit together. He also said that everything on the tables are cleaned before and after each patron and that the restaurant uses strategic seating to ensure that customers are six feet apart. Generally, I would advise against going to the Hickory House if you are especially worried about contracting COVID-19.
Mezzaluna
8/10
Mezzaluna is in the heart of Aspen and known for their wood-fired pizzas.
They currently offer inside and outside seating and have removed tables from their interior in order to meet the COVID-19 regulations. Every employee kept their mask on from what I could see.
Impressively, Mezzaluna offered hand sanitizer at the tables, rather than in a communal bottle at the entry. They also eliminated the need for sugar caddies by putting single use packets of sweetener on plates and delivering them to the table. They also sanitized my menu after it was on my table almost immediately after use. There were also no water pitchers that were left on tables (a possible COVID-19 risk if the bottles are moved from one table to another), but rather an employee who filled up cups with a pitcher that was never left on one table alone.
From what I could tell, Mezzaluna does have open bar seating, something that the Hickory House has completely eliminated. The tables outside are also a bit close to one another. I would recommend going to Mezzaluna, although be sure to avoid communal seating, such as the bar.
Poppycocks
7/10
Poppycocks, like the Hickory House, is a local breakfast favorite. They've
made a lot of alterations to ensure COVID-19 safety. A big change that has been made is that the restaurant currently takes up about four parking spaces in order to seat their outdoor guests properly. The seating outside is still a bit cramped, but appears to be COVID-19 regulation compliant. Indoor seating is also still available, but some of the tables have been removed to meet the COVID-19 guidelines. They've also placed their breakfast and lunch menus under the glass that sits on their tables, although this is only offered on their indoor tables. This helps limit the need to sanitize menus since they're under the table and can remain untouched.
They still use sugar caddies and plastic holders for singularly packaged jellies, which I watched them sanitize after a table left.
I also timed the employees at Poppycocks, who all re-emerged from busing plates before my two alphabet songs were finished, leading me to believe that they didn't wash their hands, or weren't thorough enough with their wash.
Similar to Mezzaluna, Poppycocks had one pitcher that they carried around to refill waters.
I consider Poppycocks to be generally clean, although if you're especially worried about contracting the virus, I would avoid this establishment.
Bok Choy
6/10
Bok Choy is nestled next to Zane's Tavern and replaced Little Ollie's last
December.
COVID-19 hasn't changed too much of their exterior appearance. Bok choy offers both inside and outside seating. They've removed a few tables from the inside, although the chairs are not six feet apart. Their outdoor seating is cramped and doesn't allow for proper spacing. They use paper menus that are thrown away after each use, which is good to help contain the virus.
I saw an employee take off her mask once inside the kitchen, although masks were always worn around customers.
There were no water pitchers, just glasses of water that were refilled with one large pitcher.
If you're especially worried about spacing and having to sit inside, I wouldn't recommend Bok Choy.
Eating in restaurants is a risky business during this COVID-19 pandemic, but if done properly, it's possible to keep COVID-19 exposure to a minimum. My personal accounts have to be taken subjectively as I'm not a health inspector. If you're looking for a COVID-19 safe way to dine out, I'd recommend ordering take out and doing curbside pick-up or getting take out and eating your food somewhere in nature!
About the Contributor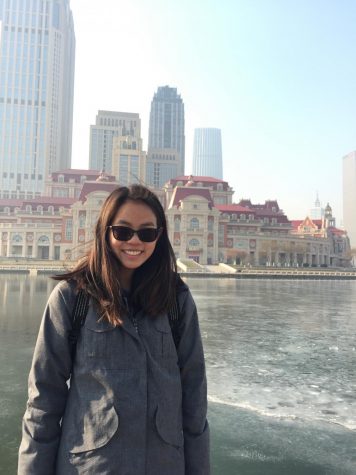 Aja Schiller, News Editor
Aja is currently a senior and has been writing with the Skier Scribbler since she was a freshman. She's spent her quarantine growing new plants, reading,...