Aspen Thrift Shop reopens
The Aspen Thrift Shop had closed due to COVID, much like many other local businesses. Locals were left to quarantine, and as they completed their spring cleaning, the lack of accessibility of the Thrift Shop left people with bags of donations sitting in their house. Many were excited to hear the Aspen Thrift shop was planning on re-opening their doors November 5th. This was the plan until governor Polis announced on October 23, that Colorado guidelines now limit gatherings to no more than 10 people from two separate households.
Shereen Sarick, a volunteer of the Thrift Shop since 2013 and board member since 2014, is the head of the Reopening Task Force. The team, which including Beth Wille, Rae Lampe, Susanne Morrison, Shauna Young, and Margie Throm, decided to postpone the opening. The team has been working tirelessly to re-open, but safety is their first priority.
"Alex and Jeremy Martin helped with making a video of the safety precautions we added in the shop, such as sneeze guards at cashiers, hand sanitizer stations, and air filtration systems, " Sarick said.
Many of the Aspen Thrift Shop volunteers are between the ages of 50 to 80 and, understandably, many of them are worried about their health. Sarick had sent this video of what work would look like with a survey attached for the 150 volunteers to fill out to understand if they are comfortable coming back to volunteer after seeing the safety precaution the shop is taking.
"60 volunteers said they will come back; however, some said they will work with our team, but they're not comfortable working with guests," Sarick said.
Students have always been able to volunteer but no longer have the option due to the health and safety concerns of the current volunteers. The Aspen Thrift Shop is inviting new adult women volunteers. In a February 2019 interview, Ellen Walbert and Diane Wallace, the shop's co-presidents, said that "the staff of women is a longtime tradition that just stuck," Walbert and Wallace said
As of now, the plan is to have the shop open to the public Thursdays and Saturdays, with an unknown start date. The team of volunteers who aren't as comfortable working with customers will sort through donations on Wednesdays and Fridays.
When the Thrift Shop has re-opened, community members can drop off clothing donations on Wednesdays through Saturdays between 10:00am and 3:00pm. There will be one station in the back where a volunteer will sort through what they wish to keep or not.
"The Thrift Shop team is really grateful for all the people who want to donate, but they need to be super picky as to what they bring us," Sarick said.
Many Aspen High School students and teachers enjoy shopping at the Thrift Store but are unable to go during the week because they close at 3:00. Now, Beth Wille and Rae Lampe will open the shop from 4:30pm to 7:00pm on the first and third Tuesday of each month.
"Opening later, as well as having our first fundraiser, will help recover the income lost in the last 8 months in order to give to their college scholarship fund," Sarick said.
Anyone who donates items can send in a photo of them as a student or someone they want to honor, and this image will be placed in the shop window alongside mannequins that are wearing masks with the Aspen, Basalt and, Glenwood high school logo. This has grabbed the attention of many, as the window is already starting to fill up with all ages from one school or another. If you are interested in donating, click here or go to Aspenthriftshop.org.
About the Contributor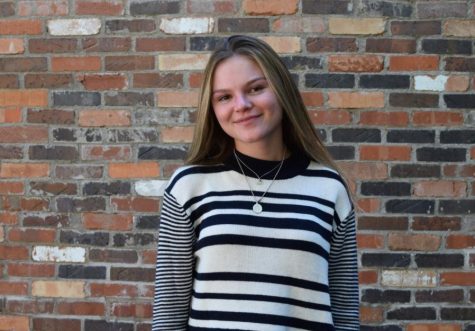 Ava Thornely, Social Media Editor
Ava Thornely is a Senior at Aspen High School. This is her third year as a writer and second as a social media manager. In her free time she enjoys skiing,...