"Winterfest: An Exhibition of Arts and Crafts" at the AAM: a creative collection of artwork
The "Winterfest: An Exhibition of Arts and Crafts" exhibit at the Art Museum is a clever and unique way of displaying a variety of works from a range of artists. Over 70 individual works are in this exhibit, coming from 42 different artists and varying in mediums. Some local names are displayed, such as Richard Carter and Sam Harvey. The works featured are displayed by an architectural exhibit created by German artist Veit Laurent Kurz. Kurz created a lake, mountain and cabin inspired by the Winter areas to display these works as a cohesive collection.
While each individual work is intriguing, the display of the collection makes this exhibit unique. The exhibit is interactive, as one can walk into the cabinet and around the mountains and lake. The frosty lake and mountains in the winter scene create a sense of familiarity for the locals of Aspen. The cabin is reminiscent of a mountain chalet in Aspen This exhibit has something for everyone, as the works all vary in use of materials and style, and lets the imagination run wild.
One crowd favorite is the piece,"Slimer" by Stefan Tcherepnin. "Slimer" is a nearly seven foot tall sculpture of a creature resembling a yeti. The sculpture is whimsical and provides a laugh for viewers. The sculpture towers behind a mountain, appearing hungry.
Another pleasing sculpture is, "Roseville" by Olivia Erlanger. Erlanger's sculpture is a contemporary take on a snow globe, featuring a snowy house. The plexiglass and wood sculpture stands at nearly four feet tall and catches the eye of many viewers.
"Winterfest: An Exhibition of Arts and Crafts" is a great exhibit for Aspenites and fans of the winter to enjoy. The exhibit is impressively curated, cleverly displayed and is definitely worth seeing.
About the Writer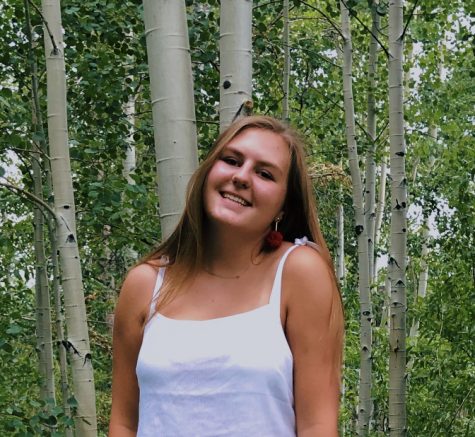 Tessa Guthrie, Editor-in-chief
Tessa Guthrie is a senior at AHS. She is currently one of the Editors-in-Chief. This is her fourth year writing for the Skier Scribbler. She loves to ski,...