Looking back at the greatest MC
One of the most iconic aspects of rap is the rhymes. The type of rhymes and delivery separate the good rappers from the great rappers. British born Master of Ceremonies (MC) and record producer, Daniel Dumile (stage named MF DOOM) passed away on October 31st, 2020. Dumile's passing was announced by his wife, Jasmine, 2 months after his death.
The masked MC has the most intricate word play and rhyme schemes that sound like poetry coupled with unique beats.
The beat is so butter, Peep the slow cutter
As he utter the calm flow ("Your mother—"), don't talk about my moms, yo
Sometimes he rhyme quick, sometimes he rhyme slow
Or vice versa, whip up a slice of nice verse pie
Hit it on the first try, villain: the worst guy (All Caps by MF DOOM)
Doom incorporates a metaphor in the first line with "The beat is so butter", as doom refers to his flow as butter. Rhyming is a crucial part of rap music and can be found in every rap song. Doom uses literary devices such as allusions, metaphors, and double entendres to entrap the listener in his stories. The complexity and number of rhymes in each bar allows these lyrics to be read with ease and sound smooth all the way through the song.
Rings a Tinkerbell, sing for things that's frail as a fingernail
Bring a scale, stale ginger lingers
Seven figures invigor
N****, fresh from out the jail, alpha male
Sickest ninja injury this century, enter plea
Lend sympathy to limp-wrist Simple Simon rhymin' emcees(That's That by MF DOOM)
A common attribute that MF Doom has in his songs is setting up a rhyme scheme and diverting it into another set of rhymes. "Fingernail, bring a scale, stale ginger linger, seven figures invigor." Doom could have said "stale ginger ale" but changed the direction of the rhyme with "linger".
The final line of "That's That", "lend sympathy to limp-wrist simple simon rhymin' emcees"
is exposing other rappers for having basic rhymes comparing them to the nursery rhymes, Simple Simon.
MF Doom had a huge influence on rappers today. Artists such as Earl Sweatshirt, Childish Gambino, Tyler the Creator, Denzel Curry, all took to twitter after DOOMS passing, sharing their love for the MC and his work. These artists as well as The Weekend, Open Mike Eagle and more, have been inspired by MF DOOM's unique come up into the rap game and his original work breaking the barriers for artists to express themselves through rap.
Leave a Comment
About the Contributor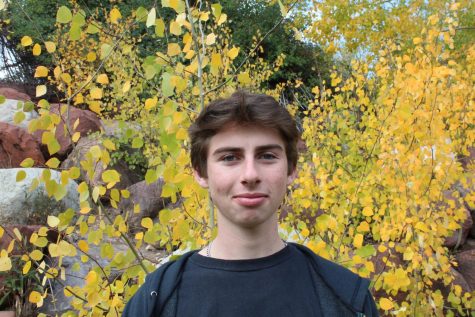 Brenon Reed, A&E Editor







Brenon is a senior at Aspen High School. This will be Brenon's third year writing for the Scribbler. During his free time, Brenon loves to...