Softball Swings Into a New Season
With the fall sports season in full swing, the AHS girls' softball team's main goal is pretty simple: to improve every single day. Since starting to rebuild the team in 2012, AHS softball has changed in many ways. This year, the team is very young, comprised of fourteen freshmen and one sophomore. They are motivated, practicing everyday after school from 4-5:30.
"I think the most important thing to let everyone know is that this group of girls really wants to play softball. They want to be part of a team and are 100 percent responsible for us having a team this year," said head coach Dave Fuentes. "We started with six girls and in less than a week we had fifteen girls. The school was very close to not having a team and these great girls showed us that they are dedicated and committed to Aspen softball. We have a team!"
Fuentes is the new head coach this year after two years as assistant coach. He decided to take the job because he wanted to keep some consistency within the program as well as try a few different techniques to keep improving the team.
"I am the head varsity base­ball coach in the spring and we are on our way to rebuild­ing that program and I wanted to see if we could do the same with softball," Fuentes said.
Although it's still very early in the season, the girls have been able to work as a team as they prepared for their first game in Grand Junction on September 3.
"My favorite part has been being with the team. We all participate and help each other when in need," freshman Dani Murphey said.
As the season continues, the team is going to work towards more specific goals.
"Our first goal is to try to win each pitch. Our second goal is to do well with the things we can control: 100 percent effort every day and also main­tain a positive attitude no matter what happens on the field," Fuentes said.
Along with achieving their goals, the main thing they are focusing on is comparing their progress to themselves rather than comparing themselves to other teams. With at least seven more games this season, the team will have many more opportunities to show their hard work to the school, the communi­ty, and themselves.
"My favorite part is being on a team that acts like a family. I hope to improve my relationships with my teammates and improve my skills in Softball this season," freshman Livvy Carr said.
Leave a Comment
About the Contributor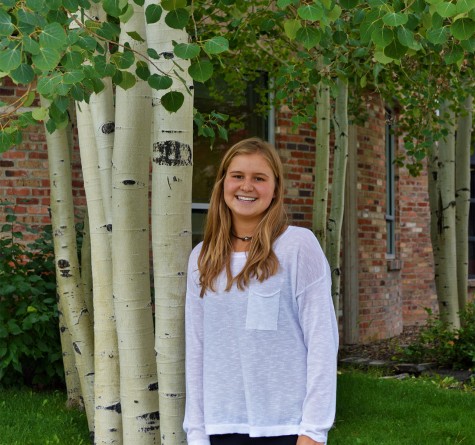 Kim Sandbach, Design Editor
Kim is a senior at AHS, and current design editor for the Skier Scribbler.