AHS Boys and Girls Ski Teams Sweep Podium and Win State Championship
Hang on for a minute...we're trying to find some more stories you might like.
After a day of racing in Leadville, Colorado, both the AHS boys and girls ski teams swept the podium, becoming state champions for the first time since 2012. The combined forces of alpine and nordic skiing helped both boys and girls teams sweep the podium.
Alpine skiing coach and AHS history teacher, Jennifer Morandi-Benson, feels that while the season did not start off well, the team pulled through and succeeded against all odds.
"This year we had 52 registered athletes, which is including several down-valley athletes. We are a team that spans the whole valley, which logistically was a big challenge," Morandi-Benson said. "Also, the ski conditions were very challenging this year, so we started a little late on snow. Once we did begin skiing, we did have some injuries and setbacks, but the team ultimately succeeded. "
  Nordic skiing coach and AHS science teacher, Travis Moore thinks that the season was great because of both the Nordic and Alpine teams strong connection and effort.
   "The season was awesome, we had a really great team dynamic, both on the girls and the guy's teams, at least for Nordic. All of the athletes worked really hard all season and put a lot of hours in," Moore said. "We really don't interact with the Alpine team; we are very separate until the State Championship, which makes states really fun and interesting. It's great to see the two teams work together and take the podium."
   AHS senior and alpine ski racer, Cam Seltzer, believes that the entire team deserves equal credit for the championship win. As this is his last year of racing, winning meant everything to him.
"I would credit our success to our team's overall attitude and willingness to win. We took the races much more seriously this year while still having lots of fun. To win the championship this year feels especially good as it's my last year competing in the sport. I think it's great that the underclassmen now have an understanding of what's at stake and know what it takes to win," Seltzer said. "I would recommend the ski team to anyone who likes to ski and have fun; the coaches are great and the season provides lots of opportunities for reward."
AHS sophomore and alpine skier, Max Godomsky, thinks that both the boys and girls teams deserved the win due to their continual effort at every race.
"It was really cool to win states this year. Throughout the year the entire team worked really hard, despite the bad conditions. Everyone raced hard at every event and took it very seriously, while still having fun. The underclass especially stepped it up and helped give us the necessary points to take the podium," Godomsky said. "We really had a great team this year, and everyone skied their hearts out which gave us the win we deserved."
Nordic skier and AHS freshman, Kendall Clark feels that the ski team was a great way to make friends and get into the groove of the first year of high school.
"I started off this year being new to Nordic skiing, but thanks to my coach Travis Moore I learned quickly. He helped to teach all the other beginners and me the proper technique and form, while still being a very motivating coach," Clark said. "I think that Nordic skiing was a great way to start of high school because of the new friends and connections around the school, as well as a varsity letter. I would recommend Nordic or alpine skiing to anyone who wants to get outside and make friends because so far it has been my favorite part of the year."

About the Writer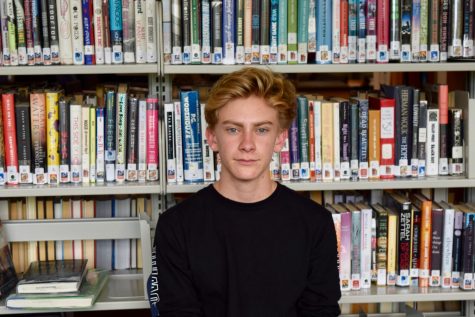 Tatum Diemer, News Design Editor
Tatum is a junior at AHS and this is his second year with the Skier Scribbler, now working as a Layout and Design Editor. In his free time, he enjoys skiing,...