AHS senior runs 23 miles for fall adventure
On Saturday, October 10, AHS senior and life-long local Caden Klein ran the 23 miles from Marble to Maroon Bells in merely 6 hours with his dad.
Klein and his dad, Brian Johnson, decided to run a route through Aspen's wonderful fall scenery. Beginning in Marble, Colorado, the two ran up Leadking Road and down to the Geneva Lake trailhead. From there, they climbed up to Geneva lake and continued up Trail Rider Pass, where they ran down to Snowmass Lake and climbed up Buckskin Pass. Finally, they concluded their route and ran down to the Maroon Bells.
"We were very well prepared and this is something that my dad and I love to do, so it is something we were well practiced at," Klein said.
This was the same route that Klein undertook on his 8th Grade outdoor ed, only this time, he did the trail in the opposite direction. He was able to complete a route that took his 8th grade group five days in just six hours.
The 23 mile route had a vertical gain of 7,500 feet. The two ran the majority of the course, except for hiking the steep parts. They passed six different lakes, and crossed three separate passes, which Klein said "made for lots of spectacular views".
"The only difficulty was not having enough water. I ran out of water at the top of Buckskin pass so I had about another hour of running without any water, which at that point was difficult considering we had been going for five hours already," Klein said.
Klein explained that he faced few challenges physically and mentally, aside from how long it was. Klein also noted that the surrounding wilderness environment was "so beautiful that I was pretty distracted the whole time". He explained that getting to run alongside his dad in such a magnificent area was meaningful and enjoyable.
With rising temperatures worldwide, Klein also saw the effects of climate change reflected in the absence of what should be a year-round glacier on Snowmass Peak as well as discrepancies in water runoff to surrounding lakes.
"Something that was pretty sad was seeing how much climate change has impacted the area too. Snowmass Peak typically has an entire permanent glacier on it and it was totally melted off, which is the first time that it has ever melted entirely." Klein added, "Not to mention that many lakes were much smaller and some of them were even dried up, like Crater Lake."
Regarding food, Klein exclusively consumed Clif Shot Bloks energy chews and a liter and a half of water, around 1000 calories of food, for the 6 hour run total.
"This route was amazingly beautiful with the fall colors and the snowy mountain peaks. It's a beautiful time of year to be outside," Klein said.
Photo by Caden Klein
This photo is looking up towards Snowmass Peak after Klein's first climb and descent.
About the Contributor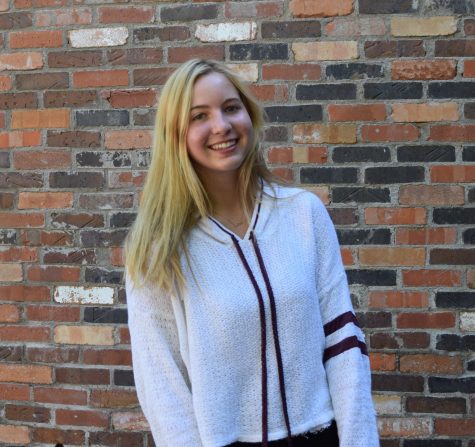 Kaelyn Kroeger, Writing Editor
Kaelyn Kroeger is a junior at AHS and a Staff Writer for the Skier Scribbler. This is her third year as a journalist and at AHS and recently moved to Aspen...