Bonocheese's secret plotting revealed
SATIRE– From his searing insults to his effortless ability to leave a chef in tears, many cower at the fiery-tempered chef, Gordon Rumsey- but not AHS culinary teacher Chris Bonocheese. It was recently discovered that Bonocheese and his Prostart team have been conspiring against Gordon Rumsey to surpass him as the world's best chef.
On Monday, March 1st, AHS business teacher Steve Sandman was walking towards the science wing when he overheard, "Haha, now YOU will be the idiot sandwich," echo from the school kitchen. Intrigued, he followed the sound to see Bonocheese aggressively preparing several extravagant dishes.
"He was on a roll," Sandman said. "Bono was preparing a beef wellington dish while also crafting an enormous, layered Amish pie. While I stood there, marveling at his dishes, I also listened to his words, which were definitely not as tasteful as his food."
According to Sandman, Bonocheese was ranting about surpassing Gordon Rumsey. Some things overheard by Sandman were, "all of this hard work, all of my missions… I am ready to take that Scottish chef's place," and "who's the master chef now, Rumsey." Confused, Sandman asked Bono about his muttering.
"So I walked into the kitchen to ask him 'what's up', and Bonocheese just smiled mischievously and said 'just cooking up somethin,'" Sandman said.
The mystery of Bondocheese's "missions" to surpass Rumsey were soon revealed. Bonocheese has actually been plotting his triumph over Rumsey since 2016 when he started his skiing company in Japan. A source, which would prefer to remain anonymous, has kept the secret of Bonocheese's missions until now.
"I traveled to Japan as a member of Bono's powder skiing company," anonymous said. "We all thought he had just retired, but in reality, he was just getting started."
According to the anonymous source, Bonocheese had traveled to Japan and used the ski company as a disguise to seek the finest Wagyu beef for Gordon Rumsey's favorite dish, Beef Wellington.
Bonocheese didn't stop with the Wagyu beef. In 2018, AHS's FBLA club traveled to Baltimore for Nationals, and Bonocheese drove the club three hours to Pennsylvania for "Pennsylvania Dutch Shoofly Pie," an infamous Amish pie. Cherry Smith, the other FBLA chaperone, recalls the pie hunt.
"I honestly thought he just really wanted to taste this famous Amish pie. It turns out he drove us there to taste it and decipher the secret recipe for it. I don't even know if it was actually Amish," Smith said.
Although it remains unclear when Bonocheese will take on Rumsey, Bonocheese's secret efforts to surpass Rumsey have been revealed.
"Oh, so the Beef Wellington and Amish pie are all a part of this plot of his, haha. I will have my popcorn and camping chair ready to watch Bono take on Rumsey. It will be a hell of a show," Sandman said.
Leave a Comment
About the Contributor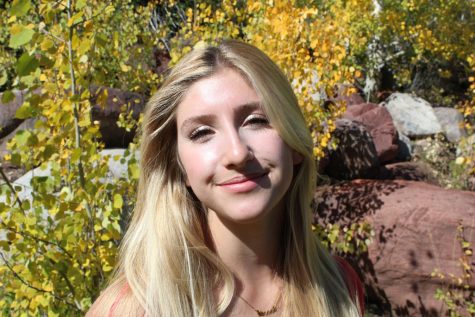 Hannah Smith, Editor-In-Chief
Hannah Smith is a senior at AHS and an Editor-In-Chief of the Skier Scribbler. This is her third year writing for the paper. In her free time, Hannah loves...