The Great Pumpkin Project
Junior and Senior IB Business students have been channeling their inner artists and creativity to make painted pumpkins that will add seasonal decorations to local businesses around Aspen.
Students this year have been learning about all the different business topics in Sheri Smith's IB Business class. However, towards the end of October, with the transition from the unit of business organization and environment into a new unit of marketing which the class is currently focusing on now, Smith wanted to do something different and allow students to learn about the topic firsthand, and of course, she had to make it festive! Students taking the class were assigned to paint on a pumpkin, specifically to paint on a local company logo of their choice. Once they were finished painting, students attached FBLA (Future Business Leaders of America) tags and gifted their pumpkins to the business they chose.
The goal of this project was to introduce students to marketing by creating their very own marketing programs. They attached marketing materials such as these FBLA tags from the CTE and business pathways to inform the local businesses on each pumpkin about the Great Pumpkin Project and its goal. Once students distributed their pumpkins around Aspen, they dove into the deeper meaning of these logos, such as color choices, fonts, and the company name.
Michaela Kenny, a senior at Aspen High School, enjoyed using her creativity to complete this project. Explore Booksellers has a lot of connections to student life, which is why she chose this local company logo to paint on her pumpkin.
"I chose to paint Explore Booksellers and I chose it because I think it's a really integral company within Aspen. I think it's really important especially since we are in a school and they sell books, they also posted my pumpkins on Instagram which was really cool," Kenny said.
Junior Clementine Neral Roberston believes that the Great Pumpkin Project was a success and helped her further understand the basis of business marketing.
"This pumpkin project helps the community because it's really interactive and it helps show our support as IB business students to the Aspen community," Neral Robertson said.
Sheri Smith, IB Business teacher and the organizer of the Great Pumpkin Project, believes it was a fun and interactive way to introduce a new business unit while simultaneously relating it to holiday festivities. In the past, Smith has done this project with her students to fundraise for the FBLA program by selling pumpkins at a local fall festival. However this year, the class is doing it to inform the local community of what IB Business students are learning about.
"We're not doing this for money or to try to get someone to give us anything, we are just trying to market and get information out to the community about the program that we have here at Aspen High School," Smith states.
Gracie Brown, an Aspen High School junior believes that this project was a very valuable experience for her as she got to learn more about being innovative and the creative side of business.
"I've learned more about being innovative in general and within business through this project. There are a lot of ideas out there to spread awareness for not only business products but also other things. It taught me and inspired me to be more innovative," Brown said.
Leave a Comment
About the Contributor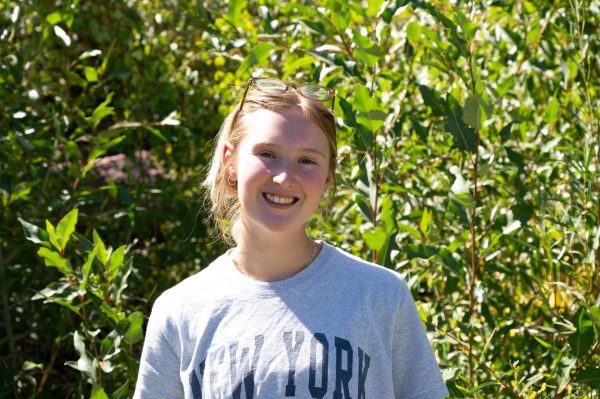 Stella Iverson, Editor-in-Chief
Stella Iverson is a senior at AHS. This is her fourth and final year writing for The Skier Scribbler. As an Editor-in-Chief, Stella is excited to bring...