The Lego Batman Movie; Surprisingly Good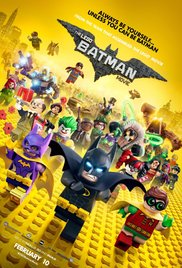 Advertisement
Hang on for a minute...we're trying to find some more stories you might like.
Last Friday I was supposed to see The Space Between Us, but it must not have been that good because it left theaters before I got the chance to see it. So instead I saw The Lego Batman Movie. Now although it was unfortunate that I couldn't see The Space Between Us, it kind of worked in my favor. The Lego Batman Movie ended up being one of the cutest animated movies I've ever seen. It was funny, heartfelt, and entertaining.
It started off with some action packed villain vs. hero fighting. Before Batman saves all of Gotham City, he tells the Joker that he doesn't mean anything to him. This feeling of selfish independence keeps coming up throughout the movie as Batman grows closer to other people. Batman sees an old family portrait of him as a young kid and his parents. This is when you start getting the vibes that this movie is basically going to be about Batman trying to get over losing people he loved and opening up. At this point in the movie, I was leaning forward in my seat my forehead creased as I watched Batman struggle with the realities of his past. Of course he was humorously interrupted by his butler considering that this is a Lego movie and not some sappy story. I sat back and watched as he brushed off his fears of having a family.
Batman later went to a party for the new City Commissioner, Barbara, and as soon as he saw her, the screen turned pink and some light music was put on. In the background you hear a kid talking to him asking if he will adopt him as Batman, as Bruce Wayne nods his head. We later see the effects of this when Batman's butler tells him the kid has been living in his house for a week. Batman is shocked, but soon figures out he can use the kid to help him with something that he couldn't do himself. Batman's plan is to get rid of Joker forever, but of course his plan backfires. At this point I was rooting for Batman hoping that he would start to act like the good guy, and not be so selfish, but that didn't work out so well. Batman attempts his plan to get rid of Joker, but ends up getting himself put in jail. Everything is goes down hill until Barbara, City Commissioner, comes back and tells Batman the city needs his help. The Joker had released the worst criminals and planned on blowing up Gotham City. I was excited because I knew this was Batman's time to shine. He would save the city and build new relationships. I was patiently waiting for Batman to perfectly execute his plan until he left all the people he was starting to care about behind. Batman then figured out he could not save everyone after being put in jail again. Then he had a revelation that he had to change himself before he could save everyone else. He slowly realized that he had to let these people who wanted to help him into his life. In the end, Batman saved everyone and came out of it with a family.