Abraham Cruzvillegas: Hi, how are you, Gonzo? exhibit at AAM
AAM hosts a new interactive exhibit
 The  Aspen Art Museum's newest exhibit, Abraham Cruzvillegas: Hi, how are you, Gonzo? incorporates the community in the exhibit while creating a space for fostering dialogue. 
Abraham Cruzvillegas grew up in Mexico City. His childhood is the inspiration for much of his art. The exhibit is a celebration of the innovative architecture used in impoverished communities in Mexico City. Cruzvillegas found that although many families in Mexico City faced many challenges, they found ways to persevere, including making homes out of found objects. As an ode to this creativity, the exhibit is composed entirely of found objects, including skateboarding ramps, books, barrels, and flower pots.
Cruzvilegas's art focuses on the interaction between the artist and the viewer. During the opening, guests were invited to touch, move, and interact with the objects, which is a very rare experience in the art world. To further the exhibit's interaction with the community, the AAM will be hosting "activations" every Wednesday at 5 pm, and occasional weekends. activations will be a variety of events open to the public, that help aid discussion about important issues threatening the community.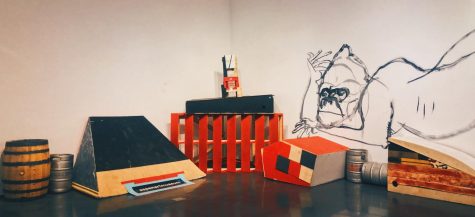 The installation occupies three rooms on the bottom floor of the AAM. One of Cruzvilegas's most interesting pieces is his "Blind Self-Portraits." He entitles the following piece, "A blind self-portrait slicing a truffled dried horse meat sausage, still thinking of a song I heard on a taxi, about a person who misses so much a book read during teenage, related to a trip to the roots of that culture meant to family and education, as a reference for understanding what is identity, as related to music and food, mostly barbecue ribs and fried chicken, hillbillies and calypso, cante jondo And polka, slowly sipping a Brooklyn lager before dawn 2018." As the pieces are not what is typically described as a portrait, the abstract works leave a lot of interpretation to the viewer, making the exhibit even more interactive. 
The exhibit also features several paintings of apes, some even extending outside of the display rooms. The apes seem to be a social commentary about humanity today; that people are acting like animals and behaving primitively.  
The Abraham Cruzvillegas: Hi, how are you, Gonzo? At the AAM provides not only a source of entertainment for the community but an experience for many to enjoy. His social commentary shines a light on important issues in society today. It also helps its viewers have a better perception of the ingenuity of the unconventional architecture in impoverished communities, taking Aspenites outside of paradise life we live, and into the real world.
About the Writer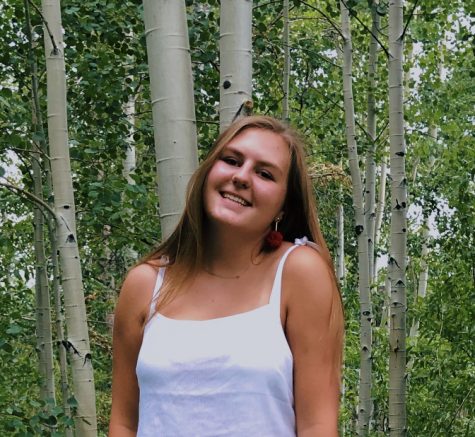 Tessa Guthrie, Editor-in-chief
Tessa Guthrie is a senior at AHS. She is currently one of the Editors-in-Chief. This is her fourth year writing for the Skier Scribbler. She loves to ski,...