Developments over the past decade have plowed through "Old Aspen"
As December comes to an end and a new decade approaches, it is imperative that we take time to reflect on the last 10 years and address the changes that have transpired. Living in a small town like Aspen, it is uncommon for these changes to go unnoticed, but the Aspen we are living in currently differs drastically from 2010 Aspen, and it is intriguing to ponder its state another 10 years from now.
Growing up in Aspen, the conception of the "Old Aspen," full of young, partying, dirtbag (in a good way) ski-bums is now foreign, my generation has only ever known the rich, second homeowners' "New Aspen." Though I am aware that Aspen has always been a haven for celebrities, my parents' stories of eating at Woody Creek Tavern (one of the few remaining local businesses) with Hunter S. Thompson and bar-hopping in their ski boots drastically contrasts the Instagram-boasting, $1000-champagne-popping celebrities I see taking the snow-cat to and from Cloud Nine. What was once a refuge for celebrities disguised as locals is now a weekend trip on a private jet for the elite. It is shocking how this phenomenon can be observed just by analyzing the changes in Aspen over the past 10 years.
First, to create a better understanding of these changes, it is crucial to examine Aspen's statistical shifts. The population of the city of Aspen has grown by approximately 700 year-round residents and now peaks at 7,365. Though this information doesn't illustrate much, that is about an 11% population growth from 2010, only slightly lower than the state average. Of those moving to Aspen, the majority are older. From 2010-17 the population of 60+ year-olds increased by about 9% and the population of 20-30 year-olds decreased by about 6% (based on the percent of the population). One possible explanation for this deviation could be the mass surge of living expenses in Aspen, inhibiting the young 'ski-bums' from affording a life, let alone a ski season in Aspen.
In 2010 the average price of a home in Aspen was $6 million. Now, Aspen boasts the highest average home price in the world at $____. Though this number is shocking, it only represents a fraction of Aspen's locals as the majority of these homes are only occupied a few weeks out of the year. Now, the average price of rent monthly is $___, much higher than the $____ average in 2010. With prices this steep, many non-billionaire locals are moving down-valley to the Basalt-Carbondale area where living costs are much lower. Since 2010, nearly ___ people have moved lower down the valley from Aspen and though these differences often go unnoticed, this has now created a generation and population of students and employees commuting sometimes over an hour each way every day. Now the majority of people working in Aspen do not live in Aspen, creating a rise in traffic and vehicle emissions, therefore further enlarging Aspen's carbon footprint. With prices so steep, many of Aspen's occupants are either retired or no longer need to work in order to provide for themselves or their family, excluding those fortunate enough to live in Aspen's incredible employee housing, which deserves another article in itself.
This rocketing of prices has attracted many rich landlords and developers to Aspen, looking to own and develop property in this prosperous town. Unfortunately many small, local businesses have been sacrificed in these developments. Since 2010, Aspen has lost many beloved, long-time local small businesses and restaurants including Boogie's Diner, Little Annie's, and – of course – my father's deli, Jonny McGuire's, each having been in business in Aspen for 28, 44, and 24 years respectively. Sadly, when larger city-based developers came to Aspen, many of these businesses' rents became too tremendous to continue selling and providing inexpensive food options. When Boogie's Diner, an Aspen icon, closed in April 2015, the building was to be torn down and redeveloped, hosting an art gallery in the second story. However, construction is still underway today. When Jonny McGuire's closed in 2015, the building was also to be torn down and developed into a hotel project\; however, as of today, the building remains standing, hosting Bamboo Bear and Dominoes.
While many businesses and buildings are fleeing Aspen's growing expensive territory, it seems as though new businesses and buildings appear every day. One of the most controversial of the decade is the new Aspen Art Museum. When the museum, located within a newly-constructed $45 million building opened in August 2014, much of the Aspen public backlashed, denouncing this expensive, large building in the middle of town, blocking some views of Aspen mountain. However, today, few oppositions remain publicized and the museum's rooftop cafe introduces a unique and exclusive view of the mountains and surrounding town. Compellingly, in a 2015 article by the Aspen Times, Rick Caroll said that when Boogie's Diner first opened in Aspen in 1987, it received similar backlash, many locals deeming the overtowering atrium as the start of the "Boogification of Aspen." As an old Aspen joke goes, it takes 100 Aspenites to change a lightbulb\; one to actually change the lightbulb and another 99 to remember how great the old lightbulb was.
Moving forward, Aspen is hoping to continue to flourish into prosperity. With a record-breaking ski season last year, boasting 1.55 million skier visits, Aspen Skiing Co. launched its new collaborative Ikon pass. In the next decade, Skico hopes to continue this advancement, possibly expanding into the Pandora area on the backside of Aspen Mountain, and conceivably developing a mountain biking, summer hangout spot, similar to the one constructed on Snowmass Mountain in 2015, on Aspen Mountain. While many mourn the death of the famed "Old Aspen," full of young ski-bums, there is always a time to rejoice in the developments of Aspen, its ski terrain, and the people it "houses" (employs). As my father, Terrance McGuire, once wrote in a letter to the editor of the Aspen Daily News, announcing Jonny McGuire's closing party, "Old friends and old Aspen, you will be missed (new Aspen not so much)."
About the Writer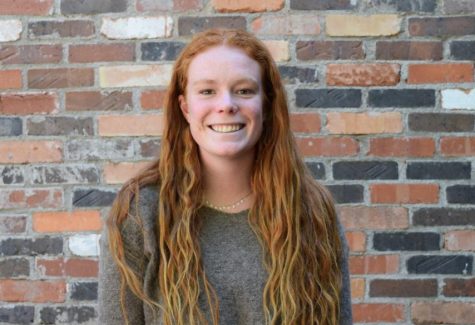 Maeve McGuire, Editor-in-Chief
Maeve is a senior at AHS. This is her third year writing for the Skier Scribbler, now working as Editor-in-Chief. In her free time, she enjoys playing...