Shootings are rising, but so are young activists' voices
On April 2nd, Aspen locals awoke to find signs placed in front of Wagner Park displaying the message "Thoughts and Prayers are Not Enough #GunControl". These signs, arranged overnight by Elijah Goldman, Gabby Yturri, and Lian Lilah, are a message promoting gun control, and a portrayal of the young activism throughout the valley.
Elijah Goldman, Junior at AHS, came up with the project and had the idea to go out at night to place the signs.
"The project was to go into town in the middle of the night and set up a sign. The idea is that no one really knows that we did it, not [for us to put up] a sign at 1 o'clock when people might come up and say 'what are you doing?'," Goldman said.
Gabby Yturri, a Sophomore at AHS, wanted to use the signs to bring attention to their message: that people in power, such as government officials, have been sending thoughts and prayers instead of laws.
"Our goal was to get people's attention. The signs are in the middle of Aspen so that people will stop and look and think for a second. The people in power [gov officials] aren't doing anything," Yturri said.
In the past few months, media attention has been drawn away from gun violence and focused on COVID-related topics, like vaccines and public safety. While pandemic concerns are still prevalent, there has been a recent increase in mass shooting cases in the US.
"Our goal [of this project] was to bring awareness to gun violence again. I feel like every time after a shooting happens we just kind of forget about gun violence, especially with the pandemic," Goldman said.
According to the students, the signs were made to draw attention to the lack of legislative change surrounding gun control despite the recent spike in mass shootings.
"[Gun violence] is a recurring issue that I feel like there hasn't been any shown change legislatively in the past few years, actually for a long time, especially as types of guns change. A lot of people like to continue to say thoughts and prayers, and so well that's great but are you actually solving the problem?" Goldman said.
According to Goldman, it is vital that younger generations fight for gun control, and continue putting their voices out to be heard, as the younger generations are the people affected longest in their lifetimes by gun-related issues.
"These are problems that are going to affect us for the rest of our lives if we don't solve them. This is the country that we are going to inherit, and do we want to grow up in a country where gun violence is a huge issue and people are dying all for the time and you have to be scared to go to public places?" Goldman said.
The AHS student activism did not stop with the signs. They recently revealed their involvement behind the signs through a film they created, which was published on Aspen Film's Instagram page as one of the top ten "30 second and under" film submissions. Their film captured the process of creating and setting up the signs, while an audio of multiple school shootings, such as Sandy Hook, played in the background.
"We are the future lawmakers, we are the future people in power, we will change the future. If we don't change, the world will be bleak. Someone has to care." Yturri said.
Leave a Comment
About the Contributors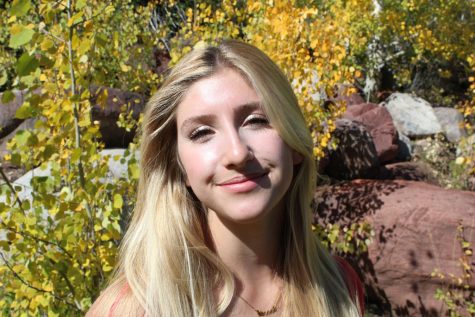 Hannah Smith, Editor-In-Chief
Hannah Smith is a senior at AHS and an Editor-In-Chief of the Skier Scribbler. This is her third year writing for the paper. In her free time, Hannah loves...
Elijah Goldman, Skier TV
Elijah Goldman is a senior at AHS. This is his second official year with the skier T.V broadcast. Goldman produces and plays a creative role on the team....