AHS Boys Basketball Off To States and Making History
AHS boys basketball is on their way to the Great Eight states competition following their undefeated season. The entire team is seniors, apart from Tommy Franceschi, a freshman. With endless support from the students at AHS, the boy's team has pushed themselves to their fullest potential. With the team battling the tragic loss of senior Lucas Lee's mom on March 4, they still remain bright and optimistic.
Cory Parker, the head coach for the AHS boys basketball team, shares the love he holds for the team.
"I think this group is unique to just having that many kids stay connected and stay committed to what we're doing. And then just actually have a passion for the game and want to get better," Parker said.
Parker also shares the individual aspects of the players and their roles.
"Lucas, another one of our starters, is what has been a fantastic addition for us when he's such he's like our energy guy. He kind of brings guys together. The people feed off of his energy and he's been so huge this year and has had such an incredible job for us. And definitely one of those blue guys that people gravitate around on the court", Parker said.
Parker continues sharing the support he holds for everyone on the team.
"It's tough to stop there. We have so many guys that are important to the team, you know, surgeon Ben, or sorry, surgeon Simon come off the bench and provide us with great minutes. Great minutes, you know, Hudson and Quinn Ancel. They're all such important members of this program and what we do y'all like these guys, some are second five. Could be a lot of the starting five in our league. Like that's how good they are," Parker said.
The Aspen skiers boys basketball team this year has been a team filled with endless support from the school and community. As a school, AHS has watched them win game after game this season. AHS and the Aspen community wish the best of luck to boys basketball at states!
Leave a Comment
About the Contributor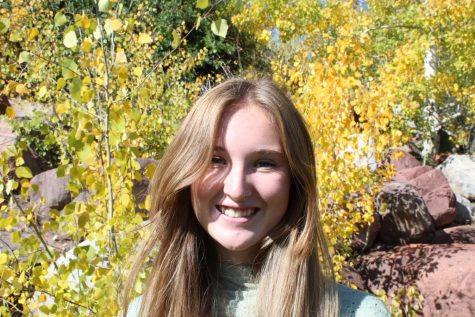 Stella Iverson, Staff Writer
Stella Iverson is a sophomore at AHS. She lives in Snowmass and Basalt. She really enjoys writing and is excited to continue taking journalism.