Where is all our snow?
While the latest blizzards on the American east coast have appalled the country, our small town stands wondering one thing: where is all of OUR snow?  Aspen is reaching record lows in snow fall levels, due to what could be global warming, or just a plain, old, terrible ski season.
At the start of 2014-2015 ski season, meteorologists were predicting a typical snow year with El Nino's higher temperatures.  After only a few weeks into the season it was easy to see that this would not be a typical ski season.  We are now kicking off 2015 with very little snow, rocks jutting out on many runs, and less runs to offer on the mountains.
This January was said to be a mini-drought of snowfall, seeing that barely any inches of snow have fallen since January 1st.  Last season the first half of January received 27 inches, which is considered a small amount, according to last year's weather reports.  Last season is incomparable to this season.
Though some Aspenites and tourists are let down about the amount of snow right now, there are also some who are still stoked on the ski season.  Kirsten Newhard, a mother of four in the Aspen School District and a local of Aspen since birth, is still finding lots to be excited about with the lack of snow.
"We do not have a lot of snow nor does anyone else in the country, but the Highlands Bowl skiing is so phenomenal right now it is unbelievable," Newhard said.  "Ozone, the main center run, is skiing so perfectly.  It is the super sweet, choppy snow you can just perfectly ski through."
She also noted, having less snow benefits some other winter sports.
"The Nordic skiing is still good and it makes skiing up to the Bells really easy because of how good the soft snow is," Newhard said.
Rich Burkley, Vice President of Mountain Operations of SkiCo, says SkiCo is somewhat optimistic about the snow and has faith that there may be a lot more on the way.
"All seasons have their own personalities and this season started very strong and took a holiday and came back and is taking a little break," Burkley said.  "All seasons move in an average.  If we are light on snow in the first half of the season the second half will be heavier.  We are in an unsettled weather pattern which is good news and we can be expecting more snow soon."
The actual facts about this season make it look not terrible, but similar to the other seasons.  Burkley explained that in the last 36 ski seasons, 10 of the seasons have been drier and 26 wetter than this one; not an awful ratio.  We are in the 75th percentile, so it really is not as dry as expected.
Students at AHS were also asked to give their opinion on our ski season this year.  One student in particular, sophomore and friend Ella Horn, had a lot to say on the topic.
"The lack of snow has had a tremendous impact on our ski town.  The conditions continue to get worse, and it's magnified through social media.  Which transpires and impacts our local economy.  Tourists can make a logical choice of which ski resorts have the best conditions based on this stream of first hand information, leading them to other ski resorts.  Overall, this has affected businesses, tourists, and locals anxious for more snow," Horn said.
With facts or no facts, we are still left questioning where is all of our snow?  Maybe do a couple snow dances tonight and hope for that east coast blizzard to head our way and share some of it's snow with us too!
Leave a Comment
About the Contributor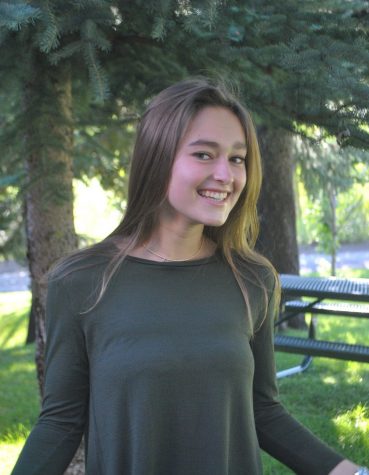 Carson Friedland, Design Editor
Carson Friedland is a staff writer for the Skier Scribbler. She is graduating in the class of 2017.  This is her third year in the journalism class,...