Ecclestone Rides Her Way Through Life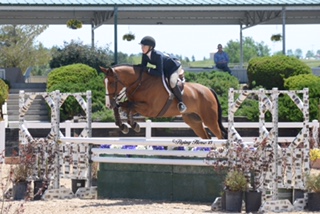 While most athletes warm up for the big game in a locker room with all of their teammates crowded around them, AHS equestrian Lizzie Ecclestone enters the stable hours before her competition to groom and ready her only teammate: her horse. As she canters into the riding ring for her two minute session, Lizzie thinks of all the hard hours of work she has put into this.  She proceeds forward and climbs onto her horse.  The competition has begun!  
Ecclestone is a junior at AHS, and has been horseback riding since she was seven years old.  She and her two sisters first got into the sport because their aunt was an active equestrian and married a professional horseback riding trainer.
For this year's competition season, Lizzie competed in many shows for equitation, USET Talent Search, and other shows that lead her to entering the Maclay regionals which includes the states of Colorado, Utah, New Mexico, and Arizona.  This class of the competition is called the ASPCA Maclay, a part of equitation class.  The judges base their scores on the rider, not the horse in this competition.   Lizzie earned 14 points in other competitions to qualify for this one.  Though she did not make it to the final round of Maclay she is still satisfied with her riding season.
"There are two phases in the ASPCA Maclay competition: jumping phase and flat phase," Ecclestone said.  "I did really well in my jumping phase, however, in my flat phase my horse was very new to this discipline and we made a few mistakes.  However, I was really proud of Bently and myself for making it to Regionals."
Ecclestone hopes to make it to a couple other classes of nationals next year.  She wants to qualify for The USEF/Pessoa Hunter Seat Medal, WHIS Medals, and the USET Talent Search.  These competitions show the best junior riders around the nation.
She spends 14 hours a week training for competitions with her coach Kim Dixon, creating a strong relationship with her horse, Bently.
"She is up before the sun as she must take care of her partner by feeding, grooming, cleaning stalls, exercising, and preparing for the show," said Tricia Ecclestone, Lizzie's mother.  "She is second to her horse and in turn he takes care of her when it comes time to show.  She just does not pack a gym bag and go to practice or a game.  She cares for a loving and beautiful animal."
Her mother has seen her grow as not only a horse caretaker, but as an equestrian herself.  Tricia is at every competition, nervously watching her daughter in the stands.
"She started riding ponies and has progressed through hunter, jumper, and equitation disciplines.  Lizzie just has a natural feel for riding and for knowing how to handle a horse. I truly enjoy watching her ride as she is a beautiful equestrian," Tricia said.  "Competitions . . . yes I am a nervous wreck and mainly because I know how hard she has worked for her brief time in the ring and I always want the best for her."
Ecclestone's passion for riding is strong and important to her lifestyle.  Her dedication and hard work help to add to this.  Along with being a rider, she is also in charge of her finances and well as Bently's. 
"I like horseback riding because it allows me to be independent and allows myself to take charge of the actions of an adult.  Horses are my passion in life and I love being apart of their lives as well," Ecclestone said.  "My favorite part of riding is probably the jumping or enjoying nice evening walks on horseback with my sisters and friends.  I really enjoy the little moments of horseback riding, as they make me appreciate the sport."
Leave a Comment
About the Contributor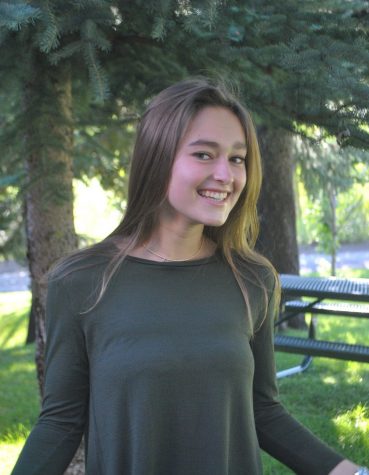 Carson Friedland, Design Editor
Carson Friedland is a staff writer for the Skier Scribbler. She is graduating in the class of 2017.  This is her third year in the journalism class,...