AHS student swims up to Harvard
As she splashed through the water as a 5-year-old in Michigan, AHS senior Kennidy Quist knew she had found a passion for swimming. Quist early on made decisions about discipline, studying, and dedication that would impact her much later in life. It was that kind of focus that led Quist, who was recognized this summer as a swimming All-American, to accept an offer to swim for Harvard, a Division I school.
"Everything is about choices, and I chose to dedicate myself to my academics and swimming career," said Quist.
Recruitment for swimming started Sept. 1 of junior year, but training for her sport is year-round, with only a two-week break during August. During the school year, her routine with the Aspen Speedos includes eight swim practices and three dryland workouts a week. In summer, training increases to 11 practices a week and five drylands.
Her coach Gordon Gerson explained that, "Training at altitude is challenging, so our training program is a little different from the norm. We do a lot of high quality, short distance training. The idea is to avoid excessive fatigue from inability to recover in a low oxygen environment."
The program has paid off, as Quist, who moved to the Aspen-area just before her freshman year in August 2013, has dominated in several swimming events.
"My best events are the 50, 100, and 200 freestyle," Quist said. "Last year, I earned the title All American for the 50 and 100 free during high school season."
Coach Gerson said her results during that time period were impressive.
"While she took second in both the 50 and 100 free at state championships last year, her performance in winning leagues in both of those events a week earlier was eye opening and suggestive that the best is yet to come," he said.
The coaches at Harvard also noticed.
"Following my official recruit trip in September, they offered me a spot and I immediately accepted," Quist said.
Quist's teammates, including AHS junior Hannah Freeman, recognize that the choices she's made built the groundwork for her future success at one of the country's most competitive schools.
"Kennidy has always worked very hard in practice and is a very good role model for the whole team," Freeman said. "She is a leader for our whole team."
About the Contributor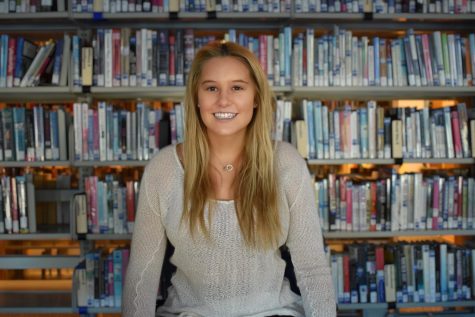 Madison Osberger-Low, Sports Editor
Madison Osberger-Low is a senior at AHS and the Sports Editor for the Skier Scribbler. This is her fourth year writing for the paper and she hopes to...