Lyon Hamill Takes Home Scholarship
On Dec. 1 through Dec. 3 a group of AHS students attended the annual Colorado Thescon (Theater Conference) in Denver, Colorado, where the AHS senior Lyon Hamill was awarded with a $1,000 Senior Thescon Scholarship.  In order to win, Lyon auditioned in front of eighty different theater university representatives from around the country.  He performed the song "Fight the Dragon" from the musical Big Fish, which he recently starred in, and a one minute monologue from the play Suburbia.  After auditioning, the ten best students of the 4,000 that attend Thescon are chosen to perform their song and monologue in front of the entire conference; Lyon was chosen and his scholarship win was announced at the end.  
"On the last day of the conference, I got a call from the director of the whole event," AHS theater teacher, Logan Carter said.  "She asked me where Lyon was because he needed to perform.  Lyon and I both had no clue he won anything.  I had to call Lyon, who was meeting with a school, and tell him he had won a spot in the final performance.  We ran down to the theater, so that he could perform."  
Lyon was extremely surprised to find out that he was even a member of the final performance, let alone the winner of the Senior Scholarship award.  Around 75% of the 1,000 seniors auditioned, so Lyon did not think he had any chance.  
"It was kind of surreal at the moment because I did not even know what the award was," Lyon Hamill said.  "I was even more worried about performing in front of 4,000 people.  When she told me I got the scholarship earlier that day, I did not believe her or think it was even close to as large of a scholarship."
Lyon's family and many people within the community of Aspen were thrilled for him to have received such an honor, since he is a prominent member of the Theater society in Aspen.  
"We have always seen that Lyon is amazing and we are glad that others see this too," Lyon's older sister Piper Hamill said.  
While at Thescon, Hamill and the other students were also able to take eight different classes a day from fifty different options.  The classes spanned anywhere from stage lighting to comedic acting skill classes.  They were able to attend two large performances, where they saw an exotic performance and the Addams Family play.  Any students were able to meet with schools and talk about possible future scholarships, considering that some of the best theater schools in the country attended the conference, such as AMDA.   
Leave a Comment
About the Writer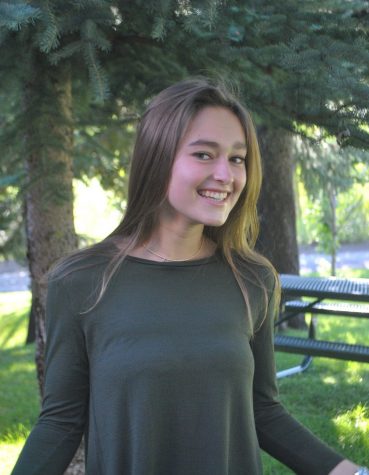 Carson Friedland, Design Editor
Carson Friedland is a staff writer for the Skier Scribbler. She is graduating in the class of 2017.  This is her third year in the journalism class,...