School on a Mountain
The Process of Strengthening and Stretching AHS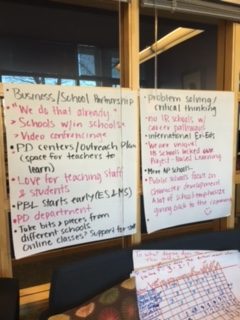 Advertisement
Hang on for a minute...we're trying to find some more stories you might like.
In a forward thinking town, Aspen High School is often admired for its progressive views and cutting edge practices. Students call teachers by their first names, and once a year, students take a week learning anywhere from the Grand Tetons to the Bronx in the Experiential Education program. However, teachers and administration alike are always looking to take things further, and that is what the school on the mountain initiative is all about: finding the key aspects of AHS and improving upon them to make the school the best it can possibly be.
Last year AHS principal was talking to English teacher Cerena Thomsen about school reform, the idea of the school on the hill surfaced. When Thomsen sent Mulberry a letter titled "School on the Hill" detailing the idea of improving and innovating new ideas within AHS, Mulberry knew that this was the perfect idea and title for a new initiative. However, because of AHS's location, Mulberry made the decision to change the word hill to mountain, as it seemed to be fitting.
"The idea [of School on a Mountain] is for a process of renewal, building something great, a shining beacon, making something that has never been done before. It's almost a utopian ideal," Mulberry said.
Mulberry found it extremely important to include all perspectives when developing this initiative. One of the students involved in this process is junior Ricky Wojcik, whose goal is to ensure that in this process, student's opinions are acknowledged.
"In this process of re-assessing [our school], my job is to make sure a student's perspective is also included. At our meetings, I provide a view on what we can improve upon and work on in our school going forward," Wojcik said.
However, although the idea of this initiative is to create new and better programs at AHS, there are aspects about our school currently that Mulberry and his team decided they valued above all else. A committee made up of administrators, teachers, students, and board members came up with what they believe to be the four pillars of AHS: the Ex Ed program, the student support program, the college counseling department, and the IB program. Once these pillars were decided upon, the committee came up with a list of schools that embodied similar values and more. From there, visits to these schools were planned in hopes that the teachers, board members, students, and administrators could glean information on how to better programs at AHS.
"We want to strengthen our programs, but we also want to stretch them. Where we stretch – well, who knows where that could come in. It could be tech, it could be community outreach, we just don't know," Mulberry said.
Although stretching the bounds of what has been done with high school education might not be possible in all communities, it certainly is possible in Aspen. Mulberry noted that as a community, there is the blessing of having money, supportive parents, and involved students that make things such as the School on a Mountain initiative possible. Thomsen agreed, saying that she thinks the Aspen community lends itself well to such ideas.
"Our community is such an integral part of the fact something like this can happen. We're not in a suburb of Denver where the people are like 'it's just about the test scores.' People come here because the value the present moment, they value being in nature, they value pushing the limit, so it goes perfectly with the idea of having a school district that values pushing it, and values the present moment," Thomsen said. "We're incredibly fortunate we have the community that makes something such as this possible."